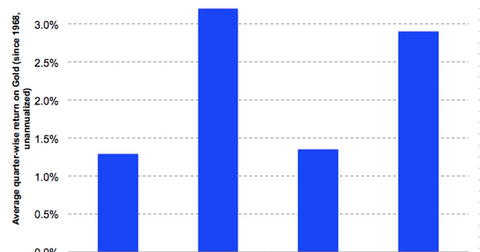 Why Gold Prices Could Increase in the Short Term
By VanEck

Updated
Van Eck
The Vanguard Group announced that its $2.3 billion Precious Metals and Mining Fund will change focus in late September to a more diversified mandate that features telecommunications, utilities, materials, and natural resources. The last time Vanguard changed the fund's mandate was also at a low in the gold market. In 2001, "gold" was dropped from the fund's name, enabling a broader portfolio that included other metals. The fund subsequently endured the secular gold bull market with as much as 50% of its portfolio in non-gold stocks. As of June 30, the Vanguard fund was approximately 77% invested in gold, silver, and other precious metals stocks. We are afraid that Vanguard is missing the gold boat once again. The Wall Street Journal reports that Vanguard forecasters have increased the odds of a recession, while warning of poor prospects for the U.S. stock market. Vanguard puts the chances of a recession in the next two years at 30-40%, its highest-ever estimate for that time frame. Vanguard has a noteworthy track record in this respect, having placed a greater than 40% probability of recession six months before the December 2007 recession. If these forecasts are right, perhaps Vanguard's shareholders will wish they had kept their precious metals fund.
Market Realist
As we touched upon earlier, gold (OUNZ) tends to do well during risk-off situations. If the economy goes into a recession, gold would gain traction as equities would struggle.
In the short term, though, gold prices could get a fillip. The metal has historically done well in the fourth quarter of the calendar year because of festive demand from India, one of the world's biggest importers of gold, given its demand for jewelry.
The Indian festival of Diwali happens in October or November, when demand for jewellery peaks in India, spiking up gold prices every year. As the graph above shows, gold prices have seen solid increases in the fourth quarter historically.
Article continues below advertisement