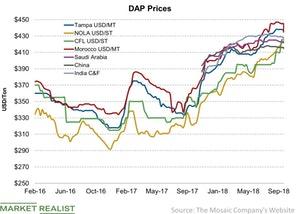 Why Did DAP Phosphate Prices Pause and Fall Last Week?
By Adam Jones

Updated
DAP prices
DAP (diammonium phosphate) prices have been rising in 2018 and made new highs in recent weeks. Last week, DAP prices appeared to pause. Some locations saw sideways momentum, while DAP prices in other locations fell.
Article continues below advertisement
Weekly movements
Last week, the DAP prices in Morocco, compared to the other six locations, saw the steepest declined by as much as 2.3% to $435 per metric ton from $445 per metric ton. In Saudi Arabia and China, the DAP prices declined by 24 basis points to $422 per metric ton and $415 per metric ton. In India, the DAP prices fell by 23 basis points week-over-week to $427 per metric ton from $428 per metric ton in the week ending September 21.
Looking at the prices in the United States, all of the prices saw sideways movement week-over-week. In Tampa, the prices remained flat at $437 per metric ton. In NOLA, the prices were flat at $384 per metric ton last week, while the prices in Central Florida were flat at $386 per metric ton.
The week ending September 28 was dull for DAP prices. They remained higher year-over-year. In Tampa and NOLA, the prices rose 27% each. In Central Florida, the prices rose 20%. In Morocco, the DAP prices remained 22% higher, while the prices were higher than 16% in Saudi Arabia, China, and India. A pause or decline in prices usually has a negative impact on companies (MOO) like Mosaic (MOS), Nutrien (NTR), and Israel Chemicals (ICL).