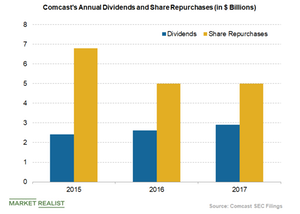 Why Comcast Is Terminating Its Share Buyback Program
Comcast's policy of returning value to its shareholders
Comcast (CMCSA) has impressed shareholders with attractive dividends for the last several years. The company also buys back shares consistently to return value to its shareholders. In Q3 2018, the company spent $871 million on dividends and $1.3 billion on share buybacks. The company spent $7.9 billion in 2017 on dividends and buybacks, up from $7.6 billion in 2016, but lower than $9.2 billion in 2015.
Article continues below advertisement
Comcast's steady free cash flow has allowed the company to move forward with its ongoing capital return policy. The company exited the third quarter with free cash flow of $3.1 billion compared to $2.3 billion in Q3 2017. In the last eight quarters, the company has maintained a minimum free cash flow of $2.0 billion in each quarter.
Share buyback trend
The company repurchased shares worth $5 billion in 2017, $5 billion in 2016, and $6.8 billion in 2015. In Q3 2018, Comcast bought back around 35.6 million shares for ~$1.3 billion. As of September 30, the company has $3 billion left under the share repurchase authorization. The company expects to repurchase $5 billion worth of shares in 2018.
However, on October 1, 2018, Comcast announced that it would not repurchase shares in 2019 due to its $40 billion acquisition of Sky. The company plans to reduce its debt levels first and then resume its buybacks.
Dividend payments
On October 25, Comcast's board announced a quarterly dividend of $0.19 per share, which will be paid on January 23 to shareholders as of January 2. In January 2018, the company's board approved an annualized dividend increase of 21% to $0.76 per share, making it the tenth straight year that the company has increased dividends.
As of October 29, Comcast's dividend yield stood at 2.10% compared to Disney's (DIS) 1.48%, CBS's (CBS) 1.32%, and News Corporation's (NWS) 1.56%.