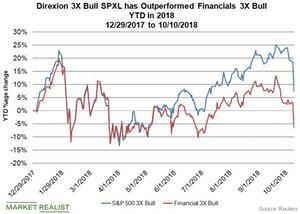 Why Are Financial Stocks Falling when Rising Rates Should Help?
By Direxion

Nov. 21 2018, Updated 11:37 a.m. ET
Direxion
Contrary to Popular Belief, Rising Rates Don't Help Financials Near the End of a Cycle
Financial stocks are often spotlighted as major beneficiaries of rate increases, but this is a misconception. Gradual rate hikes over long periods are, in fact, good for banks. But a rapid increase in rates in a short period, like our Fed, has been doing, has the opposite effect. Why? Because while rising rates mean banks can charge more for loans, they have an adverse effect on the price of fixed-income securities like bonds, which make up the bulk of banks' assets.
Article continues below advertisement
So, yes, banks can charge more for loans going forward, but the value of the fixed-income assets that they have accumulated over the last several years should decline, which would likely lead to a decline in book value. Plus, banks—like most US corporations—will see a hangover effect from this year's tax cuts and see their earnings growth rates come back down to more normal levels in 2019, setting them up for a pretty rough year if rates continue to rise. Take a look at how financials are faring against the SPXL.
Market Realist
Where are financials headed?
Since the most recent presidential election, the financial sector has shown tremendous growth on expectations of reduced regulations from the new administration. The sector rose drastically last year, gaining a whopping 20%, led by tax reforms and interest rate hikes.
The popular belief is that rate hikes benefit the financial sector since they boost lending activity and help increase banks' net interest incomes. However, the rapid increase in interest rates has taken a toll on the banking sector, reducing the value of fixed income securities. Tax reforms had already been priced into banking stocks. The sector has suffered this year, falling 3% year-to-date as of October 10.
Increasing interest rates
Rapidly increasing interest rates could dampen the financial sector's growth. A flattening yield curve, or a shrinking spread between long-term and short-term interest rates, could affect the sector. Since this is a growth-oriented sector, any headwinds to the overall economy such as the current trade concerns could affect the sector. But Direxion has you covered with the Direxion Daily Financial Bull 3X ETF (FAS) and the Direxion Daily Financial Bear 3X ETF (FAZ).