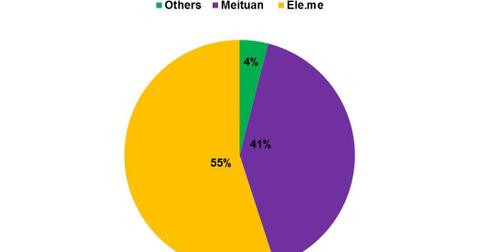 Why Alibaba Is Merging Its Delivery Units
By Neha Gupta

Oct. 4 2018, Updated 8:00 a.m. ET
Alibaba's $3 billion funding commitment for local service unit
Alibaba (BABA) is merging its local delivery units Ele.me and Koubei into a single independent company that will operate as its flagship vehicle in China's local services market. Ele.me is one of China's top online food delivery services. Alibaba completed the acquisition of the business in May. Koubei is a specialist in local deliveries.
Alibaba has brought in SoftBank as an investor in the flagship local services subsidiary it's setting up. The company said in August that it has received ~$3 billion in investment commitments for its new local services business.
Article continues below advertisement
Alibaba chasing $146 billion opportunity
China's online-to-offline commerce market in which Ele.me and Koubei operate is worth ~$146 billion, according to data from Chinese research firm Analysys. The market expanded 72% from the previous year.
Ele.me controls 55% of China's online food delivery market. That compares to a 41% market share held by Meituan Dianping at the end of June, according to iiMedia Research. The Ele.me stake includes Waimai, the food delivery business it acquired from Baidu (BIDU). Baidu became an investor in Ele.me due to that transaction, but later it sold its stake in Ele.me to Alibaba, which went on to take full ownership of the company.
Tackling the competition
Meituan Dianping went public in Hong Kong last month, raising $4.2 billion in the process to help it grow its business.
Combining Ele.me and Koubei may help Alibaba tackle the competition from Meituan and other rivals. Meituan is backed by Tencent (TCEHY), the Chinese Internet giant that has intensified competition with Alibaba in many areas. Tencent is an investor in JD.com (JD), and the two are cooperating to take market share from Alibaba in China's e-commerce market. Tencent is also reportedly exploring teaming up with Alphabet's (GOOGL) Google to tackle Alibaba in China's cloud market. Google is also an investor in JD.com, putting $550 million in the company in June.