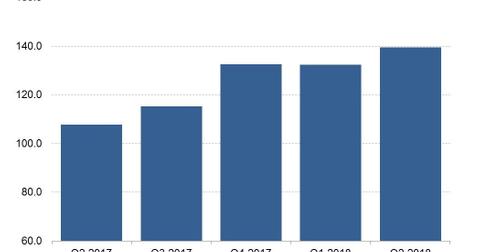 Where the Smart Buttons Feature Fits into PayPal's Strategy
By Neha Gupta

Updated
Presenting the most relevant payment options
Online shoppers may feel overwhelmed by the wide array of payment options they meet at the checkout, which can lead to their spending more time at the checkout than they should or canceling their purchases partway through the checkout process.
PayPal (PYPL) has come up with a solution to this problem. The company has built a feature called Smart Buttons that lets merchants show customers only the most relevant payment options at the checkout. For example, a shopper with a Venmo account can be shown an option to pay with Venmo.
Article continues below advertisement
Localized payment option
PayPal's smart buttons feature also has built-in localization, whereby a shopper in the United Kingdom or Germany can be shown an option to pay with a local service. These local services must have a partnership with PayPal, creating an opportunity for the company to convert would-be challengers into collaborators.
Alphabet's (GOOGL) Google is one of the technology companies that have taken to creating localized products to try to woo international customers. It launched a localized mobile payment service called Tez in India last year, and in August it rebranded it as Google Pay to roll it out further. Google competes with PayPal and other providers in the digital payment space.
The Smart Buttons feature was piloted in the United States for a few months before its global rollout last month.
Improving customer loyalty
PayPal is hoping that its Smart Buttons feature will address shoppers' frustration at having to deal with numerous payment choices at the checkout and subsequently make customers loyal to its service. PayPal is losing eBay's (EBAY) business, and Amazon (AMZN) has been difficult to win over as a customer.
The Smart Buttons feature also fits into PayPal's strategy to drive merchant uptake of Venmo. After years of running Venmo as a free service without a clear revenue source, PayPal has started developing Venmo into a moneymaker.
PayPal is in a race with Square (SQ) to woo merchants to adopt its payment services, which also opens an opportunity for it to sell loans. In July, Square won a contract from eBay to extend credit to its sellers.
PayPal processed transactions worth $139.4 billion companywide in the second quarter.