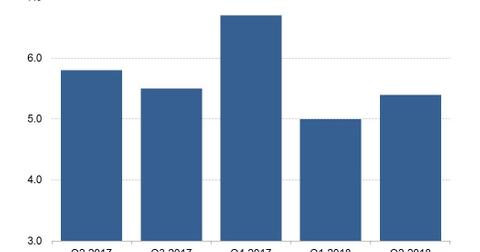 What's in the Defense Market for Nokia?
By Ruchi Gupta

Oct. 10 2018, Updated 6:31 a.m. ET
Nokia hunts for defense contracts in Australia
Nokia (NOK) is hunting for revenue opportunities in the defense market. The company's enterprise team has been pursuing the defense business in Australia, although it hasn't nailed down a defense contract in the country yet, Nokia's enterprise sales chief for Oceania, Gary Conway, told Computerworld last month.
Since buying Alcatel-Lucent in 2016, Nokia has sought to diversify beyond the service provider market. The company wants to supply every market where there's demand for high-performance, secure networks. Defense is one of the markets the company has had its eye on as part of that diversification push.
Article continues below advertisement
A $36.7 billion revenue opportunity
Nokia has developed a range of defense-related communications solutions suitable for applications such as mobile communications for soldiers and border protection, Conway told the publication. Nokia's military-grade communication solutions include a package that a soldier can wear on his or her back or that can be mounted on a truck to provide 4G (fourth-generation) connectivity.
In the defense communications market, Nokia has set its sights on an enormous revenue opportunity. Globally, military spending on communications systems and services is growing at a rate of 3.5% annually and is on track to exceed $36.7 billion by 2026, according to Strategy Analytics.
Nokia's Chinese rivals banned
In the race for defense communications spending, Nokia could get a boost from countries banning the use of equipment from Chinese companies Huawei and ZTE Corporation in the building of their communication networks.
Since the United States has restricted the use of Huawei's equipment in developing its 5G (fifth-generation) network, Nokia and Ericsson (ERIC) have been left as the major 5G network gear suppliers in the market. Both Nokia and Ericsson have won large contracts to supply T-Mobile's (TMUS) 5G network project, and the two vendors are eyeing business from Verizon (VZ), which has just begun rolling out its 5G network. AT&T (T) is also underway with preparations for 5G deployment. Nokia's network equipment sales fell 6.0% year-over-year to ~$5.4 billion in the second quarter.