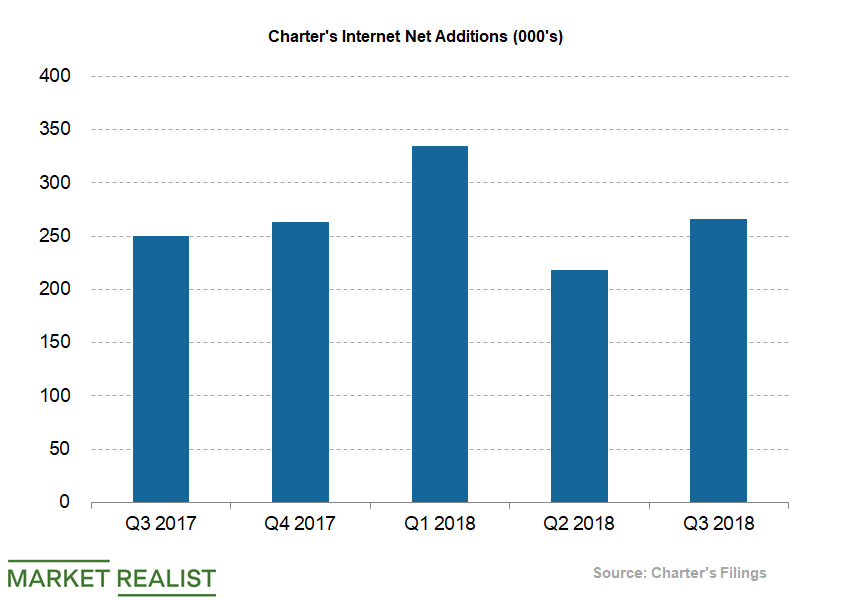 What's Driving Charter's High-Speed Internet Customer Base?
Charter's high-speed Internet business
In the third quarter, a core growth driver of Charter Communications' (CHTR) residential services component was its high-speed Internet business. Charter is optimistic about the growth trajectory of that business. Demand is growing for high-speed Internet connections as people drop their traditional pay-TV plans for online video services such as Amazon's Prime Video, Hulu, and Netflix.
On a net basis in the third quarter, Charter gained 266,000 residential broadband customers compared to 250,000 net additions in Q3 2017. Subscribers increased ~4.9% year-over-year to 23.3 million as of September 30.
Charter is aggressively deploying 1 Gbps (gigabits per second) speed through DOCSIS 3.1 technology. As of September 30, it offered gigabit service in nearly 95% of its footprint. Charter is looking forward to completing its full upgrade to DOCSIS 3.1 by the end of the year.
Article continues below advertisement