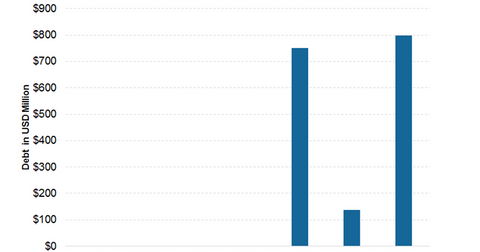 What Wall Street Expects for Cleveland-Cliffs's Debt
By Anuradha Garg

Updated
Financial leverage
Cleveland-Cliffs (CLF) has come a long way with respect to its debt levels. The company's change in management in 2014 and its focus on debt reduction have somewhat allayed investors' concerns.
Article continues below advertisement
Target: Below $1 billion
During the Q2 2018 earnings call, Cleveland-Cliffs maintained that bringing its net debt below $1 billion is its second priority, after the focus on the HBI (hot-briquetted iron) plant.
Cleveland-Cliffs's CEO Lourenco Goncalves mentioned that the company likes the $1 billion level "because it gives us the comfort that we can navigate any cyclicality that the market throws at us."
Goncalves also added that with its current cash on hand and the cash expected over the coming years, it doesn't make sense to refinance the debt tranches. Two of them are maturing in 2020, and one is maturing in 2021. The company would prefer to retire all these notes.
On October 8, the company announced that it has redeemed in full all of its outstanding 5.90% senior notes due March 2020 and 4.80% senior notes due October 2020 for $211 million. These redemptions should reduce the company's interest expense by ~$10 million and extend its maturity profile.
Liquidity position is comfortable
Cleveland-Cliffs's maturity profile has also improved significantly. Most of its debt has either been retired or pushed back an additional five years with lower interest rates.
As per the consensus estimates compiled by Thomson Reuters, the company's net debt is expected to fall 8.2% in 2018 compared to 2017.
Net debt-to-forward EBITDA
A company's net debt-to-forward EBITDA ratio reflects the number of years it would take the company to completely pay off its debt with only its EBITDA.
Cleveland-Cliffs has improved both its EBITDA and debt, significantly improving its net debt-to-forward EBITDA ratio. As per analysts' consensus estimate, CLF's ratio should improve to 1.4x by the end of 2018, compared to 2.5x at the end of 2017 and 5.20x at the end of 2016.
Other US (DIA)(VTI) steel companies (SLX) with high financial leverage, including ArcelorMittal (MT), AK Steel (AKS), and U.S. Steel Corporation (X), have also made successful efforts to reduce their debt.