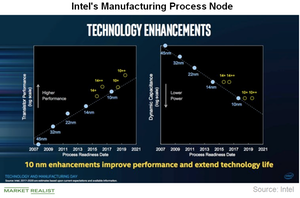 What Rumors Say about Intel's Supply Shortage
By Puja Tayal

Updated
Rumors: Intel to shift some production
Intel (INTC) is looking to address the CPU (central processing unit) supply shortage by adding capacity and prioritizing high-margin Xeon server CPUs over PC CPUs. This shortage also fueled rumors about possible approaches Intel could take to meet CPU demand in the short term.
Tom's Hardware, citing multiple sources, reported that Intel is not outsourcing production to TSMC (TSM) but is moving production of its H310C chipset back to the 22nm (nanometer) node. The H310C is a low-range chipset targeted at budget customers. Intel generally manufactures chipsets on a larger node than its current-generation CPUs. However, the delay in the 10nm node forced it to produce chipsets and CPUs on the 14nm node, limiting its 14nm manufacturing capacity.
Article continues below advertisement
Tom's Hardware reported that the 22nm H310C would be larger (10mm × 7mm) than the 14nm H310C (8.5mm × 6.5mm). The rumors fueled questions of how much capacity would be freed up if Intel shifts its H310C production to 22nm nodes, as chipsets form a small percentage of the chipmaker's capacity. Would Intel consider shifting production of other low-margin desktop or server CPUs to older process nodes? As these questions are based on rumors, they have persisted.
How long could the CPU shortage last?
While Intel is taking steps to mitigate the CPU supply shortage, the question remains of how long this shortage could last. British PC maker Novatech expects Intel's CPU shortage to continue through Q4 2018 and improve in early 2019, while Compal Electronics president Martin Wong expects the shortage to last until H1 2019, as he has not received a clear schedule from Intel on when these shortages would be resolved. However, Intel's memory chip supplier, Micron (MU), expects the shortage to resolve in Q1 2019.
Considering the timing of the supply headwind, Novatech warned that it could impact the launch of Intel's rumored ninth-generation Core processors, which we'll look into next.
Check out all the data we have added to our quote pages. Now you can get a valuation snapshot, earnings and revenue estimates, and historical data as well as dividend info. Take a look!