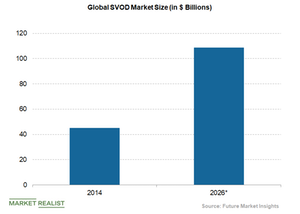 What Problems Could Comcast Face after the Sky Purchase?
By Sophia Nicholson

Updated
Comcast to benefit from Sky deal
Comcast (CMCSA) could soon get full control of UK-based broadcaster Sky. That will increase its customer base to 52 million and help it compete with digital rivals Netflix (NFLX) and Amazon (AMZN), which are attracting traditional cable subscribers with lower video entertainment prices.
The SVOD (subscription video on demand) market has been developing rapidly and is expected to reach $108.6 billion by 2026, according to Future Market Insights.
Article continues below advertisement
Maintaining Sky's sports rights could be a challenge
The acquisition could also include Sky's broadcasting rights and premier sporting properties. Although Comcast would get Sky's sports rights, Sky would continue to operate according to British regulations. Sky's deals with the Premier League and Formula One wouldn't change after the acquisition.
Currently, Sky is famous for its English Premier League (or EPL) soccer and Game of Thrones offerings. It has rights to show 128 EPL soccer matches for three seasons from 2019 to 2020. After that, Comcast would reportedly have to negotiate again for the league's rights from 2021 to 2022, keeping in mind the high cost of exclusive sports contracts.
According to analyst Craig Moffett, Comcast's Sky deal could prove to be costly since satellite video distribution is losing popularity. Analysts believe it will be difficult for Comcast to maintain sports rights with large digital companies such as Facebook (FB) and Amazon getting more sports rights. Digital giants will likely push up sports rights fees during the next bidding. Facebook holds Premier League rights in Southeast Asia, while Amazon has ATP[1. Association of Tennis Professionals] Tour rights in the United Kingdom through 2023.
In addition to maintaining sports rights, Comcast could also have trouble renewing Sky's programming deals with companies such as the Walt Disney Company (DIS), HBO, and Showtime since they're on track to launch direct-to-consumer offerings.