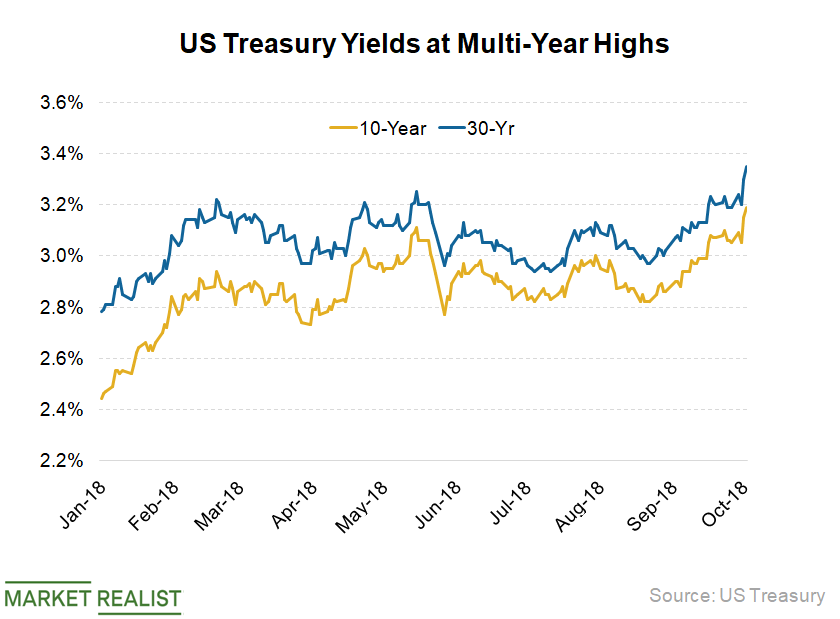 What Bond Titans Gross and Gundlach Say about the Sell-Off
By Anuradha Garg

Aug. 25 2019, Updated 7:56 a.m. ET
Jeffrey Gundlach
Jeffrey Gundlach, CEO of DoubleLine Capital, said yesterday that US Treasury yields (TLT) are likely to rise further. During an interview with CNN, he said, "The US 10-Year yield could climb to 3.5% and the 30-Year rate could hit 4%."
He also said, "Higher rates will hurt the big auto companies." He mentioned that Ford Motor Company (F) and General Motors (GM) have already started reporting slumps in sales.
Article continues below advertisement
A significant breakout
He also mentioned in a tweet last month that the 30-year Treasury yield (UBT) closing above 3.25% for two days in a row would signify a significant breakout. He reaffirmed this view yesterday while talking to Reuters, saying, "As I have been saying, two consecutive closes above 3.25 percent on the benchmark 30-year Treasury means that my statement in July 2016 that we were seeing the low—I said italicized, underlined and in boldface—is now, looking at the charts, thoroughly corroborated."
Bill Gross
Bill Gross, on the other hand, believes that the current bond sell-off is the pricing out of foreign buyers of US Treasury debt (AGG). He said, "Euroland, Japanese previous buyers of 10yr Treasuries have been priced out of market due to changes in hedge costs." According to Bloomberg, "Gross is referring to the falling cross-currency basis, which has driven U.S. 10-year yields to minus 0.06 percent for European investors and 0.09 percent for Japanese buyers who hedge against currency fluctuations through swaps."
According to Gross, "The carnage may not end here," as a lack of foreign buying could lead to further pressure on Treasury prices.