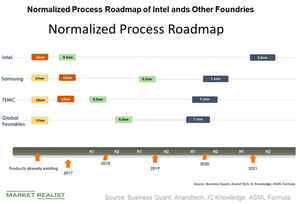 What AMD's Technology Lead over Intel Means to Investors
By Puja Tayal

Updated
AMD's investors have more to gain from technology lead 
Advanced Micro Devices (AMD) could make a big technology leap in 2019 from lagging behind Intel (INTC) to overtaking Intel in process technology, which could rebuild customers' confidence in AMD and help its position against Intel. Even if Intel closes the technology gap with its 10-nm (nanometer) node, it could lose its technology lead until AMD's foundry partner TSMC (TSM) falls behind in future nodes.
Article continues below advertisement
If AMD offers competitive products, Intel could lose its power to charge a premium price for its products, which could reduce its ASP (average selling price) and margins. On the other hand, even a 5% server CPU market share would double AMD's enterprise revenue and significantly boost its margins. AMD plans to gain mid-single-digit server CPU market share in 2018 and increase it to double digits in 2019. However, this is only possible if AMD's 7-nm EPYC server CPU lives up to its hype. 
The road to 7-nm and 5-nm
AMD plans to continue its strong product execution beyond 2019 with the help of TSMC, which has already started work on its 7-nm+ node and is on track to start work on its 5-nm node. TSMC is using DUV (Deep Ultra Violet) lithography for its 7-nm node. As it moves to 7-nm+ and 5-nm, it would increasingly use EUV (Extreme Ultra Violet) lithography, an expensive technology that was nearly two decades in the making.
An EET Asia article dated October 5, stated that TSMC has already tapped out its first customer for 7-nm+ node. It expects to start risk production on the 5-nm node latest by April 2019 and move to volume production by the third quarter of 2020.
A wccftech article stated that Intel attempted SAQP (self-aligning quad patterning) technology for the first time in its 10-nm node, but it backfired. This failure forced Intel to redesign the entire process and delay 10-nm production. However, Intel may be on track with its 7-nm node, as it will use EUV lithography. AMD and TSMC have to be on their toes to maintain their manufacturing competitiveness with Intel.
Next, we'll look at AMD's graphics business.
Check out all the data we have added to our quote pages. Now you can get a valuation snapshot, earnings and revenue estimates, and historical data as well as dividend info. Take a look!