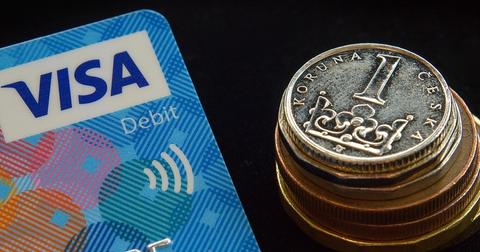 Visa's Q4 Profit Jumps 34%: A Look at Key Growth Drivers
By Anirudha Bhagat

Updated
Fourth-quarter performance
Yesterday Visa (V) reported a stellar financial performance for the fourth quarter of 2018. The payment processing company's adjusted EPS jumped 34% year-over-year to $1.21 and surpassed Wall Street analysts' estimates by a penny.
The robust growth was mainly driven by higher revenues resulting from increased payment volume. Visa's fourth-quarter revenues grew 12% YoY to $5.43 billion, benefiting primarily from strong YoY growth in payment volume and transactions processed. Revenues were almost in line with Wall Street estimates of $5.44 billion.
Article continues below advertisement
A lowered tax rate due to the enactment of the Trump administration's Tax Cuts and Jobs Act late last year also drove fourth-quarter earnings. Visa's effective tax rate for the quarter was 21%, down ten percentage points from the year-ago quarter's rate of 31%. However, the unfavorable currency exchange rate negatively impacted quarterly earnings by one percentage point. The company's total adjusted operating expenses grew 12% YoY to $1.8 billion mainly due to a 24% increase in personnel expenses and 12% in networking and processing costs.
Fiscal 2018 highlights
For full fiscal 2018, the company reported revenues and adjusted EPS of $4.61 and $20.6 billion, respectively, a YoY increase of 12% and 32%. Analysts have projected revenues and EPS for the year to come at $20.6 billion and $4.59, respectively. Adjusted operating expenses grew 14% YoY to $6.9 billion due to a 21% increase in personnel expenses and 11% in network and processing costs. Effective tax for the fiscal year declined ten percentage points from the year-ago quarter to 20%.
Article continues below advertisement
Management commentary
In the fourth quarter earnings release, Visa's CEO, Alfred F. Kelly, stated, "We closed our fiscal year with strong momentum, delivering robust revenue and earnings growth fueled by double-digit increases in payments volume, cross-border volume, and processed transactions." He further added, "Aside from the impact of the stronger dollar, positive business trends remain intact as we enter our new fiscal year."
For fiscal 2019, the company expects GAAP EPS to increase in the high-teen range, while adjusted EPS is expected to witness mid-teen YoY growth. The bottom-line guidance includes a 1% negative impact from unfavorable currency exchange rates.
Peers' performance
Most of the leading payment processing companies (IPAY) have announced their third-quarter 2018 results. PayPal's (PYPL) and American Express's (AXP) third-quarter EPS of $1.88 and $0.58, represent a YoY improvement of 25.3% and 26%, respectively. Visa's arch-rival Mastercard (MA) will report third-quarter results on October 30. Analysts project EPS of $1.68.
In this series, we'll discuss the factors that drove Visa's top-line and bottom-line results in the fourth quarter, strategic investments, and long-term valuations.