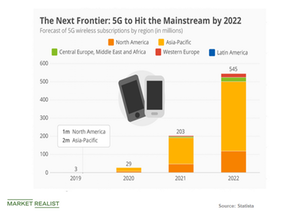 Verizon Partners with Nokia and Qualcomm to Boost Its Speed
By Sophia Nicholson

Updated
Verizon teams up with Nokia and Qualcomm
Verizon Communications (VZ) recently partnered with Nokia (NOK) and Qualcomm Technologies, a unit of Qualcomm (QCOM), to attain a live commercial 4G LTE network speed of 1.45 gigabits per second (or Gbps) in New York.
Verizon's demonstration utilized Nokia's AirScale base station and a Qualcomm mobile test device with a Snapdragon X24 LTE modem to reach this speed. Nokia and Qualcomm have used LTE Advanced technology by combining six separate channels of the spectrum, with a combination of licensed and shared spectrum.
Article continues below advertisement
Verizon to launch 5G service in October
Verizon has been aggressively focusing on the expansion of its fiber-optic networks to support 4G LTE, the upcoming 5G wireless standards, and wireline connections. Starting in October, the top wireless service provider in the United States plans to launch next-generation commercial 5G wireless broadband services in Houston, Indianapolis, Los Angeles, and Sacramento. The company also plans to launch a mobile 5G hotspot and home Internet service in four markets for the initial deployment of its 5G wireless networks in the United States.
Verizon's 5G service runs on the fiber-optic Ultra Wideband Network, which is designed to accelerate the connection speeds for a home's connected devices. This service is expected to have an average speed of 300 Mbps, peaking at ~1 Gigabit.
The race to launch 5G
Among Verizon's wireless competitors, AT&T (T), T-Mobile (TMUS), and Sprint are also working on 5G network deployment. AT&T also plans to roll out its 5G cellular services by the end of 2018.
After its merger with Sprint, T-Mobile is targeting its 5G launch in the first half of 2019. According to research by Statista, 5G wireless subscriptions are projected to reach 545.0 million by 2022.