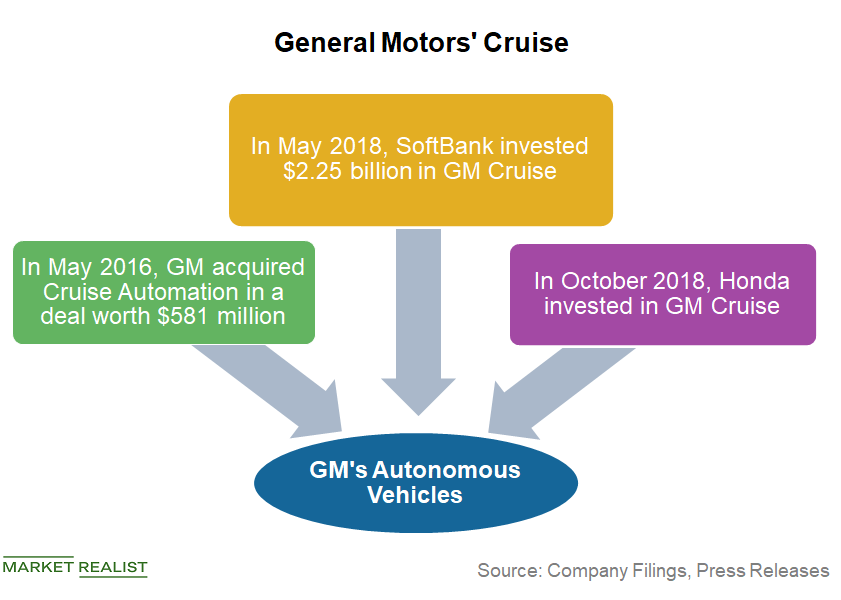 Valuation for General Motors Cruise: The Recent Surge
By Jitendra Parashar

Nov. 20 2020, Updated 4:27 p.m. ET
Honda investments
In the previous part of this series, we saw that General Motors (GM) and Honda (HMC) have partnered to work on battery technology and autonomous vehicles. So far in 2018, the valuation of Cruise, GM's autonomous vehicle development division, has risen sharply. Let's take a look.
Article continues below advertisement
GM's Cruise
In May 2016, General Motors completed the acquisition of Cruise Automation to accelerate its autonomous vehicle development in a deal worth $581 million. However, since the acquisition, GM has come made a lot of progress on the path to develop autonomous vehicle technology with the help of Cruise.
Before being acquired by GM, Cruise Automation was a San Francisco–based technology company. Founded in 2013, Cruise used to provide highway autopilot systems for vehicles.
In May 2018, GM announced that Japanese investment giant SoftBank, through its Vision Fund, will invest $2.25 billion in General Motors' AV (autonomous vehicle) development arm, GM Cruise Holdings. GM also revealed that it will put $1.1 billion in Cruise after closing the SoftBank investment deal.
According to General Motors' latest press release, the "Honda investment of $750 million values Cruise at $14.6 billion."
What does that deal mean for GM investors?
Earlier this year, GM topped the list of companies (XLY) developing autonomous vehicle systems, according to a Navigant Research report. According to the report, GM beat Alphabet's (GOOGL) Waymo, Ford (F), and Tesla (TSLA) to top the list.
Recent investments by SoftBank and Honda could financially enable GM to speed up its autonomous vehicle development program. However, GM needs to accelerate its plan to provide advanced autonomous vehicle technology to end users in order to remain ahead of the competition. GM's stock gains on October 3 might not be very long-lasting, especially due to its dismal third-quarter US sales.
Many factors, including third-quarter earnings season, could keep stocks volatile in October. To learn more, read October Should Be Full of Thrills and Chills in Market Realist's CEO Market Views.
Next, let's see why SoftBank has partnered with Toyota to form a joint venture.