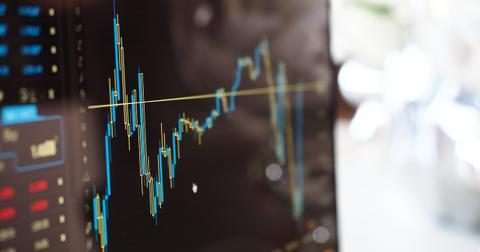 US Equities Down on Rising Rate Fears: Watch Out for CPI Next
By Anuradha Garg

Updated
US equity markets extend their declines
Increasing interest rates spooked investors again today as US stocks dropped sharply amid rising Treasury yields (TLT). The yield on the benchmark ten-year Treasury note increased to 3.214% today compared to 3.208% yesterday. The fear of rising inflation (TIP) also sparked the sell-off.
Article continues below advertisement
US producer prices rebound
The data for US producer prices were released today, which showed a rebound in September. The PPI (producer price index) increased 0.2% sequentially in September after an unexpected decline in August. The core PPI, which excludes food, energy, and trade services, rose 0.4%, which is its largest rise since January. While the market watches more closely the consumer price inflation (or CPI), which is due tomorrow, the PPI is the Federal Reserve's preferred inflation gauge.
Rising rate fears
Higher-than-expected inflation could encourage the Fed to tighten rates faster. That's what's troubling the stock markets. Higher yields are usually negative for equities because companies' borrowing costs increase as the risk-free rate increases. 
Higher rates could deter investments and increase the cost of borrowing, which could impact companies' earnings and stock prices. In the past few years, one of the factors fueling US equity markets has been cheap money. The end of easy money could put the brakes on the economy. We saw in Is the Current Sell-Off a Blip-or the Start of a Downtrend? that the market is worried about the overheating of the US economy.
Article continues below advertisement
Technology stocks are impacted the most by the current sell-off. As of 12:40 PM EST, the Nasdaq Composite Index (QQQ) was down the most at 2.2%, while the S&P 500 (SPY) and the Dow Jones Industrial Average Index (DIA) fell 1.54% and 1.48%, respectively. Among technology stocks, Amazon (AMZN) and Netflix (NFLX) led the decline, falling 3.3% and 6%, respectively.
All eyes on CPI
All eyes are now on the US CPI (consumer price inflation) data, which are scheduled to be released tomorrow. The report will give more clues about future interest rates. A hotter-than-expected inflation number could lead to an additional sell-off due to concerns about more rate hikes.