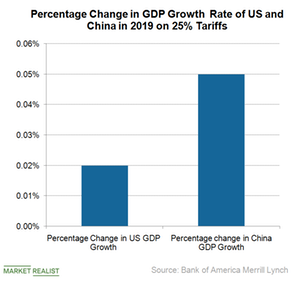 The Trade War's Impact of Economic Growth in the US and China
By Puja Tayal

Nov. 20 2020, Updated 3:19 p.m. ET
Trade war raises fears of recession
The United States is imposing tariffs on Chinese (FXI) imports, and China is retaliating with tariffs on US imports. This is disrupting the global supply chain, significantly impacting the US semiconductor industry, which manufactures chips in China.
According to CNN Money, BAML's (Bank of America Merrill Lynch) economists warned that a year-long trade war would slow the US economy and might even push the economy into recession. They explained that disruption in global supply chain and high uncertainty around business due to the trade war would force companies to cut production and consumers to cut spending, thereby reducing economic growth.
Article continues below advertisement
Impact on economic growth
According to CNBC, BAML expects the 10% tariff on $200 billion of Chinese goods to slow US GDP growth by 0.1–0.2 percentage points in 2019. If the Trump administration increases the tariff rate to 25%, the US GDP growth rate would take a bigger hit and slow by 0.2–0.3 percentage points in 2019.
However, BAML's head of global economics Ethan Harris expects China to take an even bigger hit as it exports four times more to the United States than it imports. BAML expects China's GDP growth to slow by 0.5–0.6 percentage points in 2019 if the 25% tariff rate comes into effect.
According to an article in the Wall Street Journal, Oxford Economics lowered its prediction for China's annual GDP growth from the previous 6.5% to 5.6% in 2019 in light of the new tariffs.
US tariffs encourage China to produce high-value products 
The Wall Street Journal article stated that the US tariffs could boost the Made in China program, wherein China aims to shift production focus from low-cost goods to high-value goods like aerospace, automotive, and information technology products. The US tariffs would make it expensive for Chinese firms to sell low-cost goods to the United States, encouraging them to shift production to profitable high-value products. The Chinese government would support these companies through incentives.
Major tech companies such as Apple (AAPL) and Intel (INTC) are lobbying against these tariffs. We'll look into this topic next.
Check out all the data we have added to our quote pages. Now you can get a valuation snapshot, earnings and revenue estimates, and historical data as well as dividend info. Take a look!