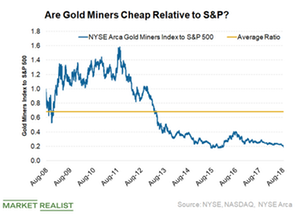 Stretched Equity Valuations Start to Weigh In
By Anuradha Garg

Updated
Stretched equity valuations
Since equities have slumped in October, investors are reassessing the price they should be paying for the forward earnings. A stock is expensive or cheap only relative to the future earnings growth potential. Since investors are concerned about the future earnings growth (SPY) in 2019, valuations have also started to weigh on investors' minds. Investors are realizing that the interest rate environment has shifted from being benign to reflecting tighter liquidity. Equities' valuations are at a level where a small spark is enough to spook investors.
Article continues below advertisement
Are advantages fading?
In the past few years, one of the factors fueling US equity markets (IVV) (QQQ) has been cheap money. The easy money policy was accompanied by low inflation levels. These factors supported a higher level of valuations for US equities (DIA). In 2018, tax reforms provided an added advantage to US equities. However, the easy money policy seems to be over. As inflation (TIP) starts to rear its head along with the fading tax reform advantage, US equity valuations could come under pressure.
Risk-off sentiment and rotation
As the risk-off sentiment takes hold in the market, investors could rotate out of more growth-oriented and expensive stocks and into relatively stable, defensive stocks like utilities or consumer staples. Holding gold (GLD) and other precious metals is another way to diversify risk in a volatile environment. Gold miners (GDX) (NUGT) have been overlooked by investors in the search for more yields.
Gold miners are looking inexpensive compared to broader equities. The average ratio of the NYSE Arca Gold Miners Index (GDX) and the S&P 500 Index (SPY) is 0.20—compared to the ten-year average of 0.68.
While broader equities' valuations have continued to increase, the valuations of gold stocks didn't maintain the pace and the ratio declined. Gold miners haven't kept the pace with the growth in gold prices in recent years.
While investors have ignored precious metals and stocks, many positive catalysts have been emerging lately. Mergers and acquisitions are also picking up the pace in the sector. The most notable was the Barrick Gold (ABX) and Randgold Resources (GOLD) merger, which was announced on September 24. These corporations are much leaner and more efficient after wrong acquisition decisions at the peak of the cycle in 2011. Read Which Gold Miners Look Promising as Gold Rebounds? to learn more.