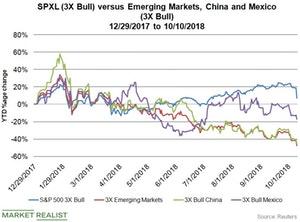 Should Investors Be Interested in Emerging Markets?
Direxion
Emerging Markets May Be Set Up to Take the Spotlight from the United States
As major US stock indices have been hitting new all-time highs in 2018, indices in emerging markets have lagged. You can see this trend in the year-to-date gain of 10% for the Daily S&P 500 Bull 3X Shares ETF (SPXL) compared with the massive year-to-date loss of 50% for the Daily MSCI Emerging Markets Bull 3X Shares ETF (EDC).
If you think the United States is poised for a pullback, selling the outperforming US indices and transitioning into emerging markets could produce the highest returns. Investors can gain exposure to emerging markets with the Daily MSCI Emerging Markets Bull 3X Shares ETF (EDC) that we mentioned above, or they can pick a specific emerging market, such as the Daily FTSE China Bull 3X Shares (YINN), the Daily MSCI India Bull 3X Shares (INDL), the Daily MSCI Brazil Bull 3X Shares (BRZU), or the Daily MSCI Mexico Bull 3X Shares (MEXX).
Here is how the SPXL has fared versus EDC, YINN, and MEXX. Look at those gaps.
Article continues below advertisement
Market Realist
Emerging markets failed to impress this year
Emerging markets (EEM) saw tremendous growth last year and grabbed investors' attention. They also started 2018 on a strong note. However, escalating trade tensions dragged down the emerging Asian markets. Brazil also suffered from political uncertainty, which affected the economy.
For the second quarter of 2018, emerging equity markets recorded sharp declines as the strengthening US dollar (UUP) became a headwind. Escalating trade tensions also added to the fall as many Asian emerging markets were affected.
A look at the indexes
As you can see in the above chart, the MSCI Emerging Markets Index underperformed the MSCI World Index. It posted returns of -15%, while the World Index posted returns of -1% year-to-date as of October 10. The Chinese market also posted negative returns this year.
In the next part, we'll look at China and Mexico.