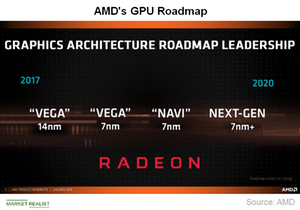 Rumor Mill: AMD and NVIDIA May Launch Polaris and Pascal Refreshes
By Puja Tayal

Nov. 20 2020, Updated 4:51 p.m. ET
AMD's GPU roadmap
Advanced Micro Devices (AMD) might lose some discrete GPU (graphics processing unit) market share to NVIDIA (NVDA) as the crypto boom ends. AMD's last GPU was the 14-nm (nanometer) Vega GPU launched in 2017. It's unlikely to launch its 7-nm Navi GPUs for gamers before 2019. There hasn't been a mention of a 12-nm GPU lineup, which led to rumors at Chiphell forums that AMD might launch a refresh to the 14-nm Polaris 20 GPUs it launched in 2017. AMD's original GU roadmap didn't mention the Polaris 20. Still, AMD launched this refresh under the name RX 580 to leverage the 2017 holiday season.
Thus, the rumor that AMD could launch the 12-nm Polaris 30 GPUs under the name RX 590 seems believable. This would help the company retain its discrete GPU market share until it launches its next-generation Navi GPUs for gamers in 2019.
Article continues below advertisement
Rumors: AMD might launch RX590 GPUs
Fudzilla and TechRadar have speculated that the only difference between AMD's RTX 590 and 580 GPUs would be the core clock speed. The RX 590 could have a core clock speed of 1,545 MHz (megahertz), 250 MHz higher than the RX 580. This increased clock speed could bring a 10% to 15% improvement in gaming performance and put it between NVIDIA's GeForce GTX 1060 and GTX 1070.
What could the rumored GPU mean for AMD's investors?
NVIDIA doesn't have any GPU that fills the gap between GTX 1060 and 1070, and it is unlikely to launch Turing-based RTX 2060 before 2019. If AMD launches the rumored GPU, it may be able to attract mid-range customers.
The above rumors fueled another rumor from Hot Hardware that NVIDIA might launch a refresh of its GeForce GTX 1060 to compete with AMD's RTX 590. NVIDIA's refreshed GTX 1060 would feature 8-GB (gigabyte) GDDR5X (graphics double data rate) memory from Micron (MU) as compared to the original GTX 1060's 3GB GDDR5 memory. If the above rumors turn out to be true, the companies may be able to mitigate the impact of crypto declines.
Check out all the data we have added to our quote pages. Now you can get a valuation snapshot, earnings and revenue estimates, and historical data as well as dividend info. Take a look!