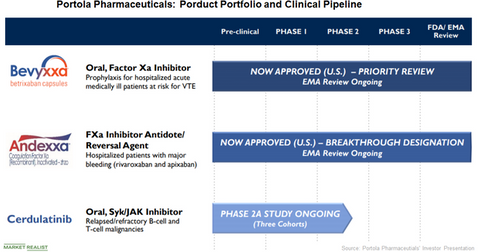 Recent Developments for Portola Pharmaceuticals
By Daniel Collins

Oct. 8 2018, Updated 9:35 p.m. ET
Recent developments
In September 2018, the US FDA granted Portola Pharmaceuticals' cerdulatinib, an investigational Syk/JAK inhibitor, an orphan drug designation for peripheral T-cell lymphoma (or PTCL) therapy. The FDA grants this designation to support the development of therapies for rare diseases. This designation provides benefits such as seven years of market exclusivity after approval, tax credits for certain clinical trials, and exemption of FDA application fees.
Article continues below advertisement
In September 2018, the US FDA acknowledged the reception of Portola Pharmaceuticals' prior approval supplement (or PAS) filing for its large-scale Generation 2 Andexxa manufacturing process. The FDA has provided a PDUFA (Prescription Drug User Fee Act) action date for Portola Pharmaceuticals' PAS of December 31. The FDA acceptance and approval of the PAS would help Portola Pharmaceuticals' commercial launch of the drug in the US market. In May 2018, the FDA granted Portola Pharmaceuticals' Andexxa an orphan drug designation and a breakthrough therapy designation.
Product revenue trends
In the US market, Andexxa has generated revenues of $2.2 million since its launch in May 2018. In the US market, Bevyxxa generated revenues of $33,000 in the second quarter. Bevyxxa has been approved for the prevention of venous thromboembolism in adult hospitalized patients with an acute illness who are at risk of thromboembolism.
In the first half of the year, Portola Pharmaceuticals reported net product revenues of $2.87 million and net collaboration and license revenues of $7.78 million. At the end of the second quarter on June 30, Portola Pharmaceuticals had cash, cash equivalents, and investments of $456.7 million compared to $534.2 million at the end of fiscal 2017 (December 31, 2017).
Revenue growth of Portola Pharmaceuticals could boost the iShares Nasdaq Biotechnology ETF (IBB). IBB invests ~1.18%, 1.15%, and 0.20% of its total portfolio holdings in Sarepta Therapeutics (SRPT), Nektar Therapeutics (NKTR), and Portola Pharmaceuticals (PTLA), respectively.