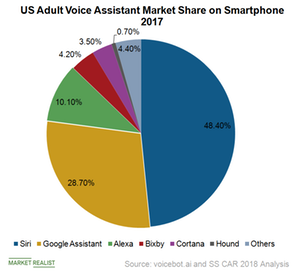 Qualcomm Taps the Voice Assistant Market with Amazon's Alexa
Qualcomm brings Alexa to Bluetooth headphones
Qualcomm (QCOM) is expanding the reach of advanced AI assistants to mid-range smartphones. It's also expanding the reach of Amazon's (AMZN) voice assistant, Alexa, to wireless headphones.
Until now, Amazon's and Google's (GOOG) voice assistants were largely found in smart speakers for the home. The companies have been working with headphone makers such as Sony and Bose to make their voice assistants portable.
In partnership with Amazon, Qualcomm has developed a headphone platform that makes it easy for device makers to bring on Alexa-enabled headphones. Users can pair these headphones with their smartphones with the Alexa app.
Article continues below advertisement
In an interview with Reuters, Qualcomm's general manager of voice and music, Anthony Murray, stated that the company's headphone platform would significantly reduce the cost and time it takes to market these headphones, thereby increasing the adoption of Alexa. He didn't comment on whether Qualcomm would offer a similar platform for Google Assistant but stated that it may support other partners in the future.
What's in it for Qualcomm?
Qualcomm has been looking to diversify away from mobile processors and modems into other adjacent markets, and voice assistants present a good opportunity. Moreover, the company is looking to compete with Apple (AAPL), which already offers AirPods wireless earbuds that feature Apple's voice assistant, Siri.
There's strong demand for voice assistants in the smartphone space. Citing a new study by Net Elixir, Voicebot.ai stated that 64% of voice assistant users access the service on their smartphones.
Among voice assistants, Alexa's adoption has been faster than that of Apple's Siri and Google Assistant, even though the other two command a larger market share. A survey by Voicebot.ai found that Siri owns 48.4% of the US adult voice assistant market because it has a long-term presence. However, Alexa took a 10% market share within just one year of its launch. By expanding Alexa's reach, Qualcomm could see fast growth.
Apart from headphones, Qualcomm is leveraging its chipsets in other applications. We'll see what this means in the next article.