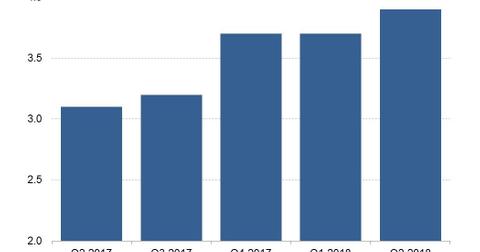 PayPal and Chevron to Team Up on Payment Program
By Neha Gupta

Oct. 11 2018, Updated 7:32 a.m. ET
Drivers to pay for gas using PayPal balances
PayPal (PYPL) and Chevron (CVX) have teamed up to launch a new payment service, which is scheduled to launch early next year and will allow drivers to use their PayPal balances to pay for fuel and services, including car washes, at gas stations operated by Chevron.
To be able to pay using PayPal balances at Chevron pumps, drivers must download and install a mobile app created by Chevron. That app will connect to PayPal.
Article continues below advertisement
Cutting time spent at the pump
The goal of PayPal and Chevron teaming up to bring digital payments to the pump is to expand payment options for drivers and cut the time they spend at the pump. About 250 million people worldwide use PayPal actively. Some of these are drivers who can now enjoy a more convenient way to pay for gas thanks to PayPal's deal with Chevron.
Exposure to a large merchant
For PayPal, the deal gives it exposure to a large merchant, the kind it's been pursuing. This goal is why the company has also been trying to woo Amazon (AMZN), the world's largest e-commerce company. Chevron made more than $141.7 billion in sales last year. PayPal charges a fee to process payments for merchants.
Since processing payments for merchants is a crucial source of revenue for PayPal, the company's shares plunged after eBay (EBAY) announced early this year that it was replacing PayPal with Adyen as its primary payment processor.
PayPal's revenue rose 23% to $3.9 billion in the second quarter. Revenue jumped 47.8% year-over-year at Square (SQ) in the same period.