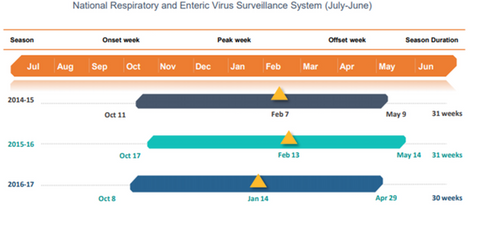 Novavax's ResVax Vaccine Could Be Blockbuster Market Opportunity
By Margaret Patrick

Updated
RSV prevalence
According to Novavax's Q2 2018 earnings conference call, ~3.9 million babies are born annually in the United States. About 70% of them are afflicted with RSV (respiratory syncytial virus) before the age of one year.
According to an update by the Centers for Disease Control, the annual RSV season lasts seven to eight months in the United States. Novavax (NVAX) thus expects all infants up to six months of age to be exposed to RSV. Its ResVax maternal immunization program stands to benefit from these RSV trends in the US market.
Article continues below advertisement
Peak revenue opportunity
With the high incidence level of RSV, Novavax expects the peak revenue opportunity for its ResVax maternal immunization vaccine program to be ~$750 million in the United States. However, it has only considered babies born full term for its US market opportunity estimate.
Vaccination rates have been assumed to be high at 90%–95%, which is in line with pediatric vaccines recommended by the Advisory Committee on Immunization Practices (or ACIP). The high burden of the disease, coupled with the fact that the vaccine is administered to babies through maternal immunization, makes a strong case for a robust uptake of the ResVax vaccine.
According to Novavax's investor presentation, the peak revenue opportunity for the ResVax vaccine is expected to reach more than $1.5 billion once the vaccine is approved in other major markets, including the United Kingdom, France, Japan, Taiwan, Korea, Spain, and Italy. The company estimates the peak revenue opportunity at ~$2 billion if the vaccine enters middle-income markets such as China, India, Latin America, Australia, New Zealand, and Eastern Europe.