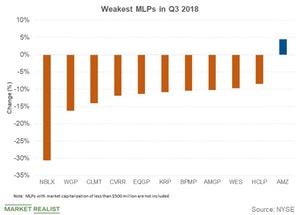 NBLX, WGP, CLMT, CVRR: The Weakest MLPs in the Third Quarter
By Rekha Khandelwal, CFA

Nov. 20 2020, Updated 3:43 p.m. ET
Colorado election
Noble Midstream Partners (NBLX) stock fell significantly in August and September as Initiative 97 was started and then made it onto the Colorado ballot as Proposition 112. The proposition requires that new oil and gas development, including fracking, should be a minimum distance of 2,500 feet from "vulnerable" areas such as homes, schools, or hospitals.
According to a study by the Colorado Oil and Gas Conservation Commission, if passed, the proposition will make 54% of Colorado's total land surface unavailable for new oil and gas development.
According to Ballotpedia, Noble Energy (NBL), NBLX's sponsor, has donated ~$2.0 million in opposition to Proposition 112. The Colorado election date is November 6. Noble Midstream Partners fell 30.7% in the third quarter.
Western Gas Equity Partners (WGP) and Western Gas Partners (WES) also have significant operations in Colorado. WGP fell 16.3% in the third quarter. The above graph shows MLPs that fell the most in Q3.
Article continues below advertisement
CLMT and CVRR fall
Downstream MLPs CVR Refining (CVRR) and Calumet Specialty Products Partners (CLMT) fell 11.9% and 14.1%, respectively, in Q3. Other notable losers in Q3 included EQT GP Holdings (EQGP) and Antero Midstream GP (AMGP). Royalty interest owner Kimbell Royalty Partners (KRP) fell 10.9% during the quarter.
Frac sand MLP Hi-Crush Partners (HCLP) fell 8.5% during the quarter. The stock fell significantly at the end of September on concerns relating to potential growth in frac sand demand.