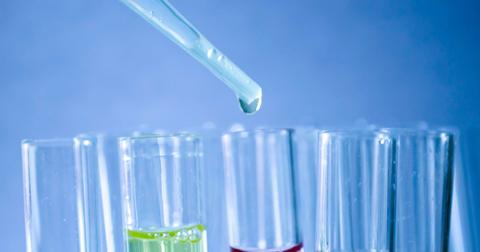 Mergers and Acquisitions in the Pharmaceuticals Sector in Q3 2018
By Mike Benson

Oct. 3 2018, Published 8:51 p.m. ET
The US pharmaceuticals sector
The US Pharmaceutical sector comprises drug manufacturers, drug marketers, and biotechnology companies. The chart below lists the recent mergers and acquisitions in the pharmaceuticals sector.
Article continues below advertisement
Recent mergers and acquisition activity in the pharmaceutical industry
On October 2, Johnson & Johnson (JNJ) announced that the company had completed the divestiture of its LifeScan business to Platinum Equity. The deal size was ~$2.1 billion.
On October 1, Sanofi announced the divestment of Zentiva to Advent International, effective September 30. Zentiva is Sanofi's European Generics business.
On September 14, Allergan (AGN) announced the acquisition of Bonti. The transaction includes an upfront payment of $195.0 million and additional commercial milestone payments.
On September 12, Johnson & Johnson Medical GmbH announced the acquisition of Emerging Implant Technologies GmbH, a privately held company based in Germany. Emerging Implant Technologies GmbH manufactures 3D-printed titanium interbody implants for spinal fusion surgery.
On September 6, Novartis (NVS) announced that the company agreed to sell selected portions of the Sandoz US portfolio to Aurobindo Pharma USA for $0.9 billion in cash and $0.1 billion of potential earnouts. The selected portions include Sandoz's US dermatology business and its generic US oral solids business.
On July 30, Johnson & Johnson Consumer announced the acquisition of Zarbee, a privately held company dealing with naturally based healthcare products.
On July 24, AstraZeneca (AZN) announced the divestment of the commercial rights for Atacand in Europe to Cheplapharm Arzneimittel GmbH for $200.0 million.
On July 12, GlaxoSmithKline (GSK) announced that Dermavant Sciences acquired the rights to tapinarof, an investigational therapeutic aryl hydrocarbon receptor modulating agent for the treatment of patients with psoriasis and atopic dermatitis. Dermavant Sciences is a subsidiary of Roivant Sciences. The deal includes an initial payment of 150.0 million pounds sterling and a potential future milestone payment of 100.0 million pounds sterling.
The Health Care Select Sector SPDR ETF (XLV) holds 10.0% in Johnson & Johnson (JNJ) and 1.6% in Allergan (AGN).