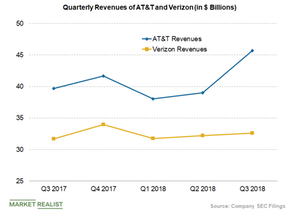 Looking at the Revenue Growth of AT&T and Verizon in Q3 2018
Q3 2018 revenues
Both AT&T (T) and Verizon (VZ) topped their revenue expectations in their recently reported third-quarter results. AT&T, which reported its earnings on October 24, posted third-quarter revenues of $45.7 billion. These earnings edged past analysts' expectations of $45.63 million and revenues of $39.7 billion in the third quarter of 2017.
Verizon's revenues came in at $32.6 billion in the third quarter, which it reported on October 23. Its third-quarter revenues beat expectations of $32.5 billion and increased 2.8% YoY (year-over-year), backed by robust growth in the wireless operations. However, the company's wireline unit and its Oath subsidiary remained sluggish in the quarter.
Article continues below advertisement
AT&T's growth in revenues
AT&T's (T) revenues rose 15.2% YoY in the third quarter, including Time Warner's assets, after posting YoY declines in every quarter since the fourth quarter of 2016. Time Warner, now called WarnerMedia, comprises Turner, HBO, and Warner Bros. WarnerMedia reported revenue growth of 6.5% to $8.2 billion in the quarter.
Turner's revenues rose 3.9%, and HBO's revenues rose 2.4% in the quarter. Warner Bros. posted a revenue increase of 7.5%, driven by box office releases such as Crazy Rich Asians, The Meg, and The Nun.
AT&T's WarnerMedia division is planning to launch its streaming service by the end of 2019, strengthening the company's ability to compete with Netflix (NFLX), Hulu, and Amazon's (AMZN) Prime Video. Netflix posted better-than-expected subscriber numbers in the third quarter, which it released on October 16. Netflix added 6.96 million subscribers, which exceeded its expectations of an ~5.0 million increase in subscribers.
Verizon's revenue drivers
Verizon's revenue growth of 2.8% came on the back of strong performance in the wireless business, supported by improved service revenues. Excluding the revenue recognition impact, its service revenues grew 2.6% YoY, driven by improved mobile plans for customers and increased connections.
Verizon's wireline segment was sluggish in the third quarter due to a decline in Fios video connections in the quarter, which was due to the ongoing shift from linear video offerings to over-the-top (or OTT) offerings. Verizon's Oath business was soft due to declining desktop use of its websites in favor of mobile streaming.