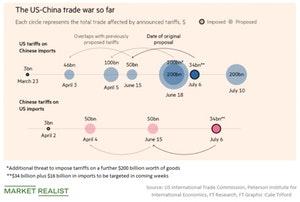 Is Risk-to-Reward for China Finally Too Attractive to Pass Up?
Direxion
As the US Market Has Been Flying High, the Chinese Market Has Gotten Pummeled
Emerging markets have lagged the United States in 2018, and China has been one of the weakest performers. Chinese markets are down more than 25% year-to-date. Tariffs have caused the Chinese economy to slow, and there does not appear to be an end to the pain in sight. Even though the correction is warranted, the Chinese market is trading at valuations not seen in years, and it may finally represent a risk-to-reward that is far too great to pass up.
Article continues below advertisement
Investors could choose to pick individual stocks to gain exposure to China or take a more diversified approach by selecting an ETF, such as the Daily FTSE China Bull 3X Shares (YINN). On the other hand, investors who are bearish on China could short individual stocks or go with the Daily FTSE China Bear 3X Shares (YANG).
Market Realist
China: A concern or opportunity?
China has been a target of the Trump administration since the presidential election. During the election campaign, President Donald Trump raised some concerns about China being a currency manipulator. This year, he imposed tariffs on various Chinese products. In retaliation, China imposed tariffs on some US products, starting a full-scale trade war, as shown in the chart below.
A bumpy ride?
A CNBC article in August mentioned that analysts are suggesting that their clients be prepared for a bumpy ride with escalating trade concerns. The article also looked at Wells Fargo's explanation that Chinese stocks are declining not only due to trade concerns but also due to China's economic growth, which has slowed down. JPMorgan Chase said China's equity market won't bounce back until the trade war is resolved.
Many economists believe that the escalating trade war with China could also affect the global economy. Nevertheless, Direxion has you covered for the Chinese market with its leveraged ETFs: the Direxion Daily FTSE China Bull 3X ETF (YINN) and the Direxion Daily FTSE China Bear 3X ETF (YANG).