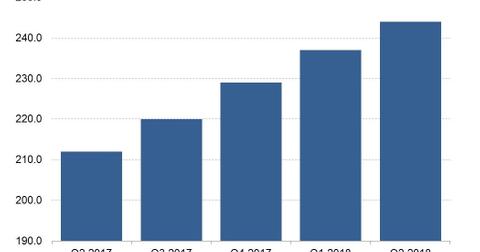 Is PayPal Set to Launch in Pakistan?
By Neha Gupta

Updated
Pakistan using Xoom for fundraising
Pakistan is one of the international markets in which PayPal (PYPL) is currently not available. There have been talks about PayPal launching in Pakistan for a few years now, but that hasn't happened. PayPal has described Pakistan as market with great opportunity.
Pakistan's central bank has recently authorized PayPal–owned Xoom to be used to receive monetary contributions from Pakistanis living overseas for a dam construction fund. Although the use of Xoom is limited to the dam fund, the authorization alone appears to send a strong message that Pakistani authorities may be willing to allow PayPal to launch in the country.
Article continues below advertisement
Expanding its global footprint
The authorization of Xoom to help with fundraising for dam projects in Pakistan comes a few months after the change of guard in the country when Imran Khan was elected as the new prime minister of Pakistan.
Entering Pakistan would allow PayPal to expand its global footprint and help it stay ahead of the competition. Square (SQ), an emerging fierce rival to PayPal, has launched in only a handful of countries so far. Square is currently not available in Pakistan.
PayPal currently generates most of its revenue in the United States and serves ~250 million active users globally, consisting of ~20 million merchants.
Tech companies interested in Pakistan
Pakistan's population was 193.2 million in 2016, according to World Bank data. The number of Internet users in the country is on the rise, making it a target of many global technology companies. Earlier this year, Alibaba (BABA) struck a deal to acquire Pakistani online retailer Daraz. Amazon (AMZN) and eBay (EBAY) also provide e-commerce services in Pakistan. For Alphabet's (GOOGL) Google, Pakistan is one of the countries it's banking on to help it reach the next billion users.