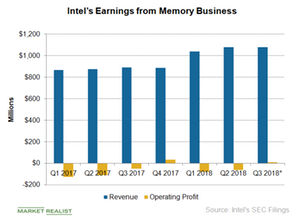 Intel Aims to Make Its Memory Business Profitable in H2 2018
By Puja Tayal

Updated
Intel's Nonvolatile Memory Solutions Group
Intel's (INTC) IoTG (Internet of Things Group) and PSG (Programmable Solutions Group) are reporting strong double-digit growth. Another data-centric business that posted strong growth is NSG (Nonvolatile-Memory Solutions Group). NSG offers high-density floating-gate 3D NAND (negative AND) and high-performance persistent Optane technology. The company developed both technologies in a joint venture with Micron Technology (MU).
The two companies jointly announced the industry's first QLC (quad-level cell) 3D NAND. Intel has started production on its QLC data center NAND PCIe (Peripheral Component Interconnect Express) SSDs (solid-state drive).
Article continues below advertisement
NSG earnings
Intel's data center business has reported strong growth, which boosted the revenues of supporting segments such as PSG and NSG. NSG's revenues rose 23% YoY (year-over-year) to more than $1.0 billion in the second quarter.
However, NSG's operating expenses are high, as the company is still investing in the development of 3D XPoint products. So, NSG reported an operating loss of $65 million in the second quarter. Intel expects NSG to turn profitable in the second half by increasing the mix of the cost-effective 64-layer 3D NAND.
3D XPoint memory solutions
Intel and Micron jointly developed 3D XPoint technology and decided to independently develop products based on this technology. While Micron is still developing 3D XPoint products, Intel is already offering its 3D XPoint-based Optane DC-persistent memory, which is being adopted by tech giants like Google and Alibaba.
In September, Intel expanded its Optane 905p series SSD by launching a 1.5 TB (terabyte) variant in addition to the 960 GB (gigabyte) and 480 GB variants. The 1.5 TB SSD has a read–write speed of up to 2.7 Gbps (gigabytes per second). This SSD also has 2.2 Gbps and IOPS (input/output operations per second) read–write speeds of 575,000 and 550,000, respectively.
With such high performance, the SSD can move a huge amount of data quickly, making it ideal for photographers and videographers who work with large media files. Intel hasn't unveiled the price of the new SSD, but it's expected to be more than the 960 GB SSD priced at $1,200.
Next, we'll look at Intel's Mobileye business.
Check out all the data we have added to our quote pages. Now you can get a valuation snapshot, earnings and revenue estimates, and historical data as well as dividend info. Take a look!