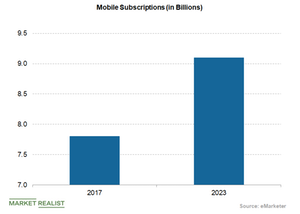 Inside Verizon's Growth Story amid the US–China Telecom War
By Sophia Nicholson

Oct. 3 2018, Updated 4:35 p.m. ET
US and China strive to lead in 5G services
Fifth-generation (or 5G) network connectivity has been one of the critical reasons for the fierce competition between the United States (SPY) and China. China is reportedly considering the merger of two of its biggest mobile phone carriers—China Telecom and China Unicom. China expects the merged CT/Unicom unit, along with carrier giant China Mobile, to aggressively pursue 5G technology.
The United States also wants to ensure that it leads the world in the deployment of next-generation wireless 5G technology. This technology could be up to 100 times faster than its current 4G service, according to the FCC.[1. Federal Communications Commission]
Article continues below advertisement
The FCC's related initiative, Leading the World Toward a 5G Future, focuses on low-band, mid-band, and high-band spectrum for 5G services. It also focuses on building wireless infrastructure to support 5G. The FCC is also working toward easing the regulatory barriers to encourage companies to invest in 5G networks.
US telecom providers in a race to provide 5G services
Verizon (VZ) is scheduled to roll out its 5G fixed wireless broadband Internet services in five markets in October, marking the first US carrier to launch this service. Six years ago, Verizon was also the first carrier to unveil its nationwide 4G LTE network service.
The company is offering a free three-month introductory trial. After the three months pass, users would pay $70 per month for the 5G Internet and TV service. Existing Verizon customers would receive the service for $50 per month.
Article continues below advertisement
Verizon also partnered with Apple and Alphabet (GOOGL) to offer its customers free three-month YouTube TV trial, which would cost $40 per month after that. This partnership also includes a free Apple TV 4K or Google Chromecast Ultra device for the first three months. These offers would allow Verizon's customers to access cable and local sports channels, movies, TV programs, music, and video content. 
T-Mobile–Ericsson deal
T-Mobile (TMUS) has partnered with Swedish telecom company Ericsson (ERIC) to support T-Mobile's nationwide 5G network deployment, with a large coverage area to create a robust broadband experience. 
According to Ericsson's prediction in late November 2017, around 1.0 billion subscribers might have access to 5G mobile networks by 2023. In its Mobility Report, Ericsson expects this emerging 5G technology to result in 9.1 billion mobile subscriptions at the end of 2023.