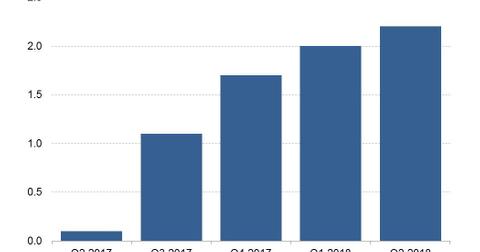 Inside Amazon's Roaring Advertising Business
By Neha Gupta

Oct. 17 2018, Updated 6:30 a.m. ET
Amazon has 4.1% of US digital ad dollars
Amazon (AMZN) is on track to generate $4.6 billion in US advertising sales in 2018, more than double its sales from a year ago and 4.1% of all US digital advertising dollars, according to eMarketer.
Amazon's capturing 4.1% of US digital ad spending sees it rank as the third-largest advertising company in the country behind only Facebook (FB) and Alphabet's (GOOGL) Google. Facebook is expected to capture 20.6% of US digital advertising dollars in 2018, and Google is expected to capture 37.1%.
Article continues below advertisement
By the end of 2020, Amazon's advertising business is expected to have grown to represent 7.0% of the US digital advertising market. But Facebook and Google are expected to have lost market share by that time, accounting for a combined 55.9% of the US digital advertising market compared to the 57.7% predicted for them in 2018.
Expanding its marketing solutions
Consumer-focused businesses are drawn to advertising on Amazon because they believe it provides a platform to reach potential customers at the moment of purchase. A UPS Pulse study has shown that the majority of online shoppers start their online product searches on marketplaces such as Amazon as opposed to search engines such as Google or Bing.
Amazon has also lured more advertisers to its platform by expanding its marketing solutions. In May, Amazon began testing a program that lets businesses purchase ads that appear on other sites and apps beyond the Amazon website, thereby maximizing their audience reach, Bloomberg reported.
Revenue rose 132% in advertising segment
Amazon doesn't break out its advertising sales but reports them under its Other segment, in which revenue rose 132% year-over-year to $2.2 billion in the second quarter. Facebook and Google generated $13 billion and $28.1 billion in advertising revenues, respectively, in the quarter. Twitter (TWTR) and Snap (SNAP) reported advertising revenues of $601 million and $260 million, respectively, in the quarter.