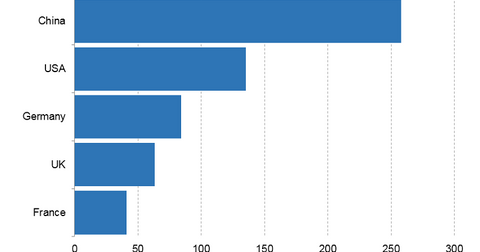 How Its AI-Powered Translation Tool Could Benefit Baidu
By Neha Gupta

Updated
Real-time language translation
Baidu (BIDU) has developed an AI-powered tool capable of performing real-time language translation in English, Chinese, and German. This tool allows Baidu to keep up with Google (GOOGL), which also built an AI system for real-time language translation. Microsoft (MSFT) is also in the race to a build human-like digital translator, announcing a milestone on this front in March.
Baidu intends to integrate its AI-powered translation tool into the translator device it unveiled last year. The Baidu translator device listens to a person speak in one language and repeats what was said in another language of the user's choice.
The device is designed as a companion for tourists, helping them navigate foreign cities. It also doubles as a portable Wi-Fi router. The Baidu translator device is available for tourists to lease at travel agencies and airports in China.
Article continues below advertisement
Tapping into the global tourism market
Adding real-time language translation capability could make the translator device a useful tool for international tourists, potentially allowing Baidu to grow its share of tourist spending.
According to data from the United Nations World Tourism Organization (or UNWTO), Chinese travelers spent $258.0 billion on international tourism in 2017. Americans and Germans spent $135.0 billion and $84.0 billion on international tourism, respectively, in 2017.
Processing payments for Chinese tourists
Alibaba (BABA) and Tencent (TCEHY) are also pursuing expenditures by Chinese travelers. The two companies have been partnering with overseas businesses to allow Chinese tourists who are traveling abroad to pay for purchases using familiar mobile payment services. Alibaba runs a mobile payment service called Alipay, and Tencent operates WeChat Pay.