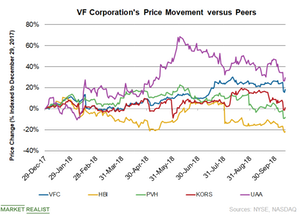 How Has VF's Stock Performed So Far in 2018?
By Victoria Dean

Oct. 15 2018, Updated 5:10 p.m. ET
VFC stock has risen 18.1% YTD
As of October 12, VF Corporation (VFC) stock has increased 18.1% YTD (year-to-date) to $87.43. A strong financial performance in the first quarter of fiscal 2019 and extensive strategic efforts are driving the stock. The company raised its fiscal revenue outlook due to these two factors.
Meanwhile, Hanesbrands (HBI) and PVH Corp (PVH) have fallen 21.8% and 8.1%, respectively. However, Michael Kors Holdings (KORS) stock has increased by 1.0%, and Under Armor (UAA) is up 29.4% YTD.
Article continues below advertisement
Factors driving the stock price movement
VF Corporation is a leading name in the apparel manufacturing space. The company's portfolio consists of brands such as Vans, North Face, Timberland, Kipling, Lee, and Wrangler. VF Corporation has outlined a five-year strategic roadmap for driving its top line as the retail environment changes drastically. Under the strategy, the company aims to drive the revenues at a compound annual growth rate of 5%–7% from 2016 to 2021.
VFC's top line is also being driven by acquisitions. In the past 12 months, the company has acquired Altra, Icebreaker, and Williamson-Dickie. As a part of streamlining its portfolio, the company has sold Reef and Nautica brands.
VFC's international business trends remain robust. In the first quarter, the company's overall international sales were up 27%. Organic international sales registered 14% growth in the year driven by Europe and China.
Like most traditional retailers, VFC has been working on its D2C business to protect its market share as e-commerce expands. In the first quarter, D2C sales were up 16%, and digital sales were up 33% on an organic basis.
Splitting up to unlock shareholder value
In August, VFC stated that it would be split up into two separate entities. While VF Corporation will manage the profitable apparel and footwear business, the new company will take care of the Wrangler and Lee jeans and VF Outlet businesses.
The jeans business has been marred due to growing competition from athleisure wear and the rise of private denim brands. The separation into two entities is expected to be concluded by the first half of 2019.