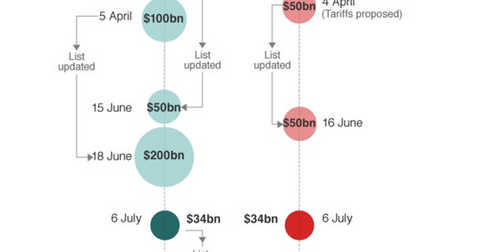 How Far Could the US and China Go with Import Tariffs?
By Puja Tayal

Updated
The first round of tariffs
The US–China (FXI) trade war is heating up and is starting to hurt the global supply chain. The United States is imposing tariffs on several Chinese imports in an effort to pressure China to abandon its unfair trade practices and to protect American intellectual property. China is retaliating with higher tariffs on US imports.
Both countries imposed the first round of tariffs on $50.0 billion in imports. The first wave, released on July 6, covered $34.0 billion in imports. The August 23 wave covered $16.0 billion in imports. 
Article continues below advertisement
The US tariff list included semiconductor equipment imported from China. However, this didn't impact chip equipment suppliers Applied Materials (AMAT) and KLA-Tencor (KLAC), which primarily export equipment to China. However, the second round of tariffs raised concerns among semiconductor companies.
The second round of tariffs
On September 24, the Trump administration imposed a 10.0% tariff on another $200.0 billion in Chinese goods, including components like semiconductors and electronic circuits. This round of tariffs also included consumer tech goods such as Apple (AAPL) Watch and Fitbit (FIT) activity trackers. China retaliated with a 5.0%–10.0% tariff on $60.0 billion in US imports, including consumer goods and auto parts. China has not yet targeted semiconductor imports from the United States.
However, the Trump administration announced that its 10.0% tariff rate on Chinese goods would increase to 25.0% on January 1, 2019, if no negotiation could be reached. China has not yet responded to this statement.
According to CNBC, Raymond James Washington policy analyst Ed Mills warned that while a 10.0% tariff rate might still be absorbed by US companies, a 25.0% tariff rate could hurt their businesses. This high tariff rate is expected to increase the costs for US companies, negatively impacting their competitiveness in the global market. Tariffs would also hurt American consumer spending in the holiday season, as these goods would become more expensive.
The Trump administration also warned that it would implement a third round of tariffs on another $267.00 billion in Chinese imports if China doesn't negotiate. We'll explore this topic next.
Check out all the data we have added to our quote pages. Now you can get a valuation snapshot, earnings and revenue estimates, and historical data as well as dividend info. Take a look!