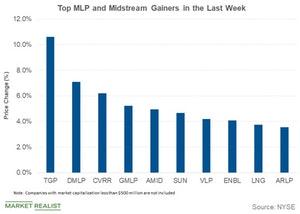 Here Are the Top-Performing MLPs and Midstream Stocks Last Week
By Rekha Khandelwal, CFA

Nov. 20 2020, Updated 12:09 p.m. ET
Top gainers
Cheniere Energy (LNG), Teekay LNG Partners (TGP), and Golar LNG Partners (GMLP) were among the top gainers in the MLP and midstream sector last week. Cheniere Energy rose 3.7% while TGP and GMLP rose 10.6% and 5.2%, respectively, in the last week. Other top gainers included Dorchester Minerals (DMLP), CVR Refining (CVRR), and American Midstream Partners (AMID), which rose 7.1%, 6.2%, and 5.0%, respectively.
The above chart shows the top ten MLPs and midstream companies in terms of stock returns last week. Sunoco (SUN) rose 4.7% in the last week.
Article continues below advertisement
These MLPs and stocks fell last week
Hi-Crush Partners (HCLP) fell 13.9% in the last week. The stock fell significantly following the announcement of the temporary idling of a frac sand facility.
The companies that fell the most included Kimbell Royalty Partners (KRP), Summit Midstream Partners (SMLP), and Western Gas Equity Partners (WGP), which fell 11.4%, 10.9%, and 7.1%, respectively. Enbridge Energy Management (EEQ) and Enbridge Energy Partners (EEP) fell 6.3% and 5.3%, respectively. The two companies are expected to complete the merger with parent Enbridge (ENB) in the fourth quarter of 2018.
There were quite a few rating updates by analysts on MLPs and midstream stocks. Let's take a look at those next.