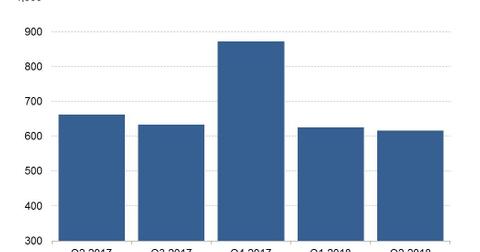 Groupon-IBM Patent Dispute Continues
By Neha Gupta

Oct. 1 2018, Published 12:38 p.m. ET
Patent infringement
It appears Groupon (GRPN) and IBM (IBM) are not about to put their guns down anytime soon. After a period of push and pull over patents, a jury in Delaware returned a verdict in July that Groupon infringed on several patents belonging to IBM. Therefore, the jury decided that Groupon should be made to pay at least $82.5 million to IBM in damages.
In addition to finding that Groupon infringed on IBM patents, the jury also said that Groupon did so intentionally, opening a path for IBM to request the judge increase the jury damage award up to three times.
Article continues below advertisement
Groupon wants jury verdict thrown out
But Groupon differed with the jury and has sought to challenge its verdict. In a recent court filing, Groupon asked the federal judge hearing the case to either throw out the jury's verdict or greatly reduce the damages awarded to IBM, according to a Reuters report.
As Groupon seeks to at least minimize its liabilities in the patent dispute, IBM wants to multiply them. In its recent court filings cited by the New York Law Journal, IBM asked the judge to double its $82.5 million damages award recommended by the jury against Groupon. IBM also seeks to have Groupon foot its litigation costs.