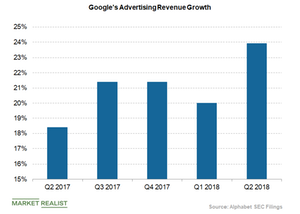 Google to Follow Facebook in Allowing Certain Cryptocurrency Ads
By Sophia Nicholson

Updated
Google to reverse its ban on specific cryptocurrency ads
Alphabet's (GOOGL) Google has decided to lift its ban on some cryptocurrency ads. The search engine giant will now allow some regulated advertisers that are approved by Google to promote crypto businesses and services in the United States and Japan. Reportedly, Google has still banned ads related to ICOs (initial coin offering), wallets, and trading advice.
Now advertisers who want to promote crypto businesses or services will need to certify with Google for a specific country, a process that will start in October.
Article continues below advertisement
Why was crypto advertising banned?
Google was among the first to ban cryptocurrency ads in March to protect its users from scams and other misleading or deceptive promotional practices. According to the FTC (Federal Trade Commission), consumers lost ~$532 million in cryptocurrency-related scams in the first two months of 2018. Facebook (FB), Twitter (TWTR), and Snapchat (SNAP) also banned crypto ads for similar reasons.
Facebook, which banned all crypto ads on its service platform back in January amid the Bitcoin price surge to nearly $20,000, removed its ban on the ads of some cryptocurrencies, including Bitcoin, in June. However, the company still banned ads promoting binary options and ICOs.
Google and Facebook rely on advertisements for revenues
Facebook, Twitter, Snap, Yelp (YELP), and Google rely on advertising sales for the majority of their revenues. In the second quarter, Snap posted its highest advertising revenue growth of 48% year-over-year, with Facebook, Google, Twitter, and Yelp posting ad sales growth of nearly 42.3%, 23.9%, 23%, 21%, respectively, in the same period.