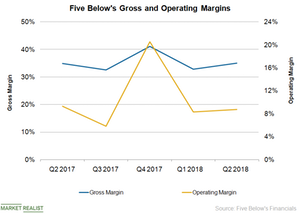 Five Below's Margins so Far this Year
By Victoria Dean

Dec. 4 2020, Updated 10:52 a.m. ET
The first half of fiscal 2018
In the first half of fiscal 2018, Five Below's (FIVE) gross margin increased by 60 basis points to 34.0% due to leverage in store occupancy costs.
The company's selling, general, and administrative or SG&A expenses increased 23.0% due to new store openings. The SG&A expense rate (as a percentage of sales) improved by 40 basis points to 25.4% due to higher sales. Subsequently, the operating margin was up by 100 basis points to 8.6%.
Article continues below advertisement
Five Below's expenses remain elevated due to ongoing investments, which include expenses related to store openings, raising brand awareness, and technological upgrades. The company opened 67 new stores in the first half of the fiscal year, and it expects another 58 new stores in the remaining quarters.
To grow its customer base, it's diverting considerable resources toward enhancing brand visibility. Five Below is focusing on expanding its presence on mobile devices and social media platforms. During the second-quarter earnings conference call, CEO Joel Anderson explained that the implementation of a new POS system across the store base is on track for completion in the current fiscal year.
For both the third and fourth quarters of fiscal 2018, Five Below has projected operating margin deleveraging of 100 basis points, mainly due to reinvestment of tax reform–related savings.
How peers have fared
For the first half of fiscal 2018, Dollar General's (DG) gross margin was up by a mere five basis points at 30.6% on a YoY basis. The company's gross margin benefited from higher markups. However, the increases in the sale of the low-margin consumable category was an offsetting factor. The selling, general, and administrative of SG&A expense rate increased by 26 basis points—mainly due to higher occupancy costs. The operating margin was down by ~20 basis points to 8.3%.
Dollar Tree's (DLTR) gross margin, meanwhile, declined by 40 basis points to 30.4%. Its SG&A expense rate decreased by 20 basis points, mainly due to a favorable year-over-year comparison. Its operating margin was down by 20 basis points to 7.4%