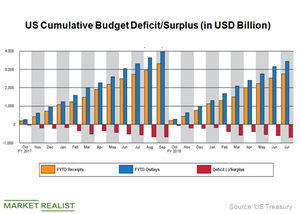 Dalio Predicts Weaker Dollar due to Budget Deficit Financing
By Anuradha Garg

Oct. 11 2018, Updated 9:01 a.m. ET
Budget balance
The budget balance is the difference between what a country's government garners from taxes and other sources and what it spends. A budget deficit occurs when spending exceeds earnings. In such a situation, the government borrows money from its citizens as well as foreign entities. As this debt accumulates, it's possible that the value of its currency could decrease.
Article continues below advertisement
US deficits rise
The US (SPY) (VTI) budget deficit is creeping up. In August, the budget deficit almost doubled as compared to the same month last year. With this, the deficit in the first 11 months of the current fiscal year has hit $898.1 billion and is 33% higher year-over-year. As corporate tax receipts fall further due to tax cuts, the deficit is expected to rise. The government is expected to run its biggest annual deficit in the last six years.
The Congressional Budget Office notes that if the current tax cuts are extended, the debt could increase from 78.0% of GDP in 2018 to 148.0% by 2038 compared to the current estimate of 118.0%.
The White House has acknowledged that the deficit is growing faster than it had expected. The administration expects the annual budget deficit to rise ~$100.0 billion more than what was previously forecast for each of the next three years. This could result in a budget deficit of $1.0 trillion starting in 2019.
Deficits and gold outlook
Ray Dalio, billionaire hedge fund manager, also predicts that the government will have to print a large amount of money to fund the deficits, which will, in turn, put pressure on the US dollar (UUP) (USDU). While talking to Bloomberg Television in September, he also predicted that the impact of tax cuts will start to fade away in about 18 months, which along with rising interest rates (TLT) and higher costs for pension and health care would push up the budget deficit. He sees the dollar weakening as much as 30% due to this turn of events.
A weakening dollar is positive for gold, as negative implications for the economy could lead investors to seek safe-haven assets such as gold (GLD).
Having discussed the dollar, let's look at the strength of US equities (DIA) in the current market environment and the implications for precious metals.