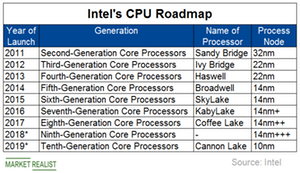 Could Intel Launch Its Ninth-Generation Core Processors Soon?
By Puja Tayal

Nov. 20 2020, Updated 5:05 p.m. ET
Intel's roadmap
It's that time of the year again—Intel (INTC) is set to launch its next-generation Core processors. In 2016, the company changed its technological strategy of offering two generations of processors per node by launching a third processor on its 14nm (nanometer) node. It delayed its 10nm node due to technical complexities.
In 2017, Intel launched a fourth processor, Coffee Lake, on its 14nm node to compete with Advanced Micro Devices (AMD), which had launched its 14nm PC CPUs. To make Coffee Lake attractive, Intel increased its core count, bringing six cores to mainstream desktops CPUs for the first time.
Article continues below advertisement
Intel was scheduled to launch its ninth-generation Cannon Lake processor on the 10nm node by the end of this year. In April, the company delayed the launch of 10nm products to the end of 2019. In light of worsening CPU (central processing unit) supply shortages, British PC maker Novatech warned that the launch of Intel's ninth-generation Core processors could be impacted.
Rumors around Intel's ninth–generation Core processors
Twitter user @momomo_us spotted an Intel Core i9 9900K CPU on Amazon, but the product was soon removed. Intel, in response to an analyst comment, stated that it is focused on introducing new products in H2 2018, hinting that the ninth-generation Core CPUs could come to market this year.
Like with the previous generation's processors, Intel is expected to first launch its flagship unlocked and overclockable K series processors, followed by other CPUs, in 2019. Wccftech stated that Intel could increase its core count and clock speed in the ninth-generation processors, bringing eight cores to mainstream desktop CPUs for the first time.
The Intel Core i9-9900K is set to feature eight cores, 16 threads, a 16MB (megabyte) L3 cache, and base clock and turbo-charge speeds of 3.6GHz (gigahertz) and 5GHz, respectively.
The Intel Core i7-9700K is set to feature eight cores, eight threads, a 12MB L3 cache, and base clock and turbo-charge speeds of 3.6GHz that could be boosted to 4.9GHz.
The Intel Core i5-9500K is set to feature six cores and six threads, a 9MB L3 cache, and base clock and turbo-charge speeds of 3.7GHz that could be boosted to 4.3GHz.
The addition of two cores could improve Intel's CPU gaming performance. The launch of these processors is in question and benefiting AMD, which we'll look into next.
Check out all the data we have added to our quote pages. Now you can get a valuation snapshot, earnings and revenue estimates, and historical data as well as dividend info. Take a look!