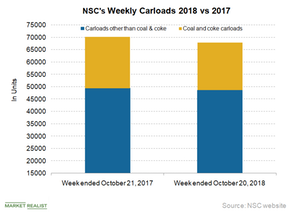 Comparing Norfolk Southern's Traffic to the Industry's in Week 42
NSC's carload traffic in Week 42
Eastern US railroad company Norfolk Southern (NSC) reported a 3.3% YoY (year-over-year) fall in its carload traffic in Week 42. The company hauled ~67,800 railcars sans intermodal units in the week compared to ~70,100 in the comparable period last year.
Compared to Norfolk Southern's carload loss, it competitor CSX Corporation (CSX) reported a 4.2% YoY rise in Week 42. In terms of carload traffic growth, Canadian National Railway (CNI) ranked first among all Class I railroad companies (FXR) with a 10.3% gain in Week 42. Its rival Canadian Pacific Railway (CP) was in second place with a 4.4% carload gain. CSX and BNSF Railway (BRK.B) remained in third place and fourth place, respectively, with gains of 4.20% and 2.7% in the week.
Article continues below advertisement
In Week 42, NSC's commodity groups sans coal and coke made up 71.5% of its total carload traffic. Coal and coke traffic made up 28.5% of its total carloads. The traffic of commodity groups excluding coal and coke plummeted 1.7% YoY to 48,500 units from ~49,400 units. Coal and coke volumes slumped 7% YoY to ~19,300 units in the week from ~20,800 units.
Changes in NSC's commodity groups
The following carload commodity groups' volumes were in the green in Week 42:
grain mill products
lumber and wood products
nonmetallic minerals
petroleum products
waste and scrap materials
The following commodity groups reported lower shipments in Week 42:
crushed stone, sand, and gravel
grain
metals and products
motor vehicles and equipment
stone, clay, and glass products
NSC's intermodal traffic in Week 42
Norfolk Southern's intermodal traffic expanded 4.7% YoY in Week 42 to ~88,500 containers and trailers compared to ~84,500 units last year. The company moved ~80,600 containers and trailers in the week from ~76,500 units in the same week last year. NSC's container traffic expanded 5.4% YoY to ~80,600 units from ~76,500 units. Its trailer volumes fell 1.1% YoY to ~8,000 units.
In the first 42 weeks, Norfolk Southern's overall rail traffic volumes grew 4.2% YoY. The company's traffic gains were higher than the 3.8% YoY growth reported by US railroad companies during the period.
We'll discuss CSX's rail traffic trends in the next article.