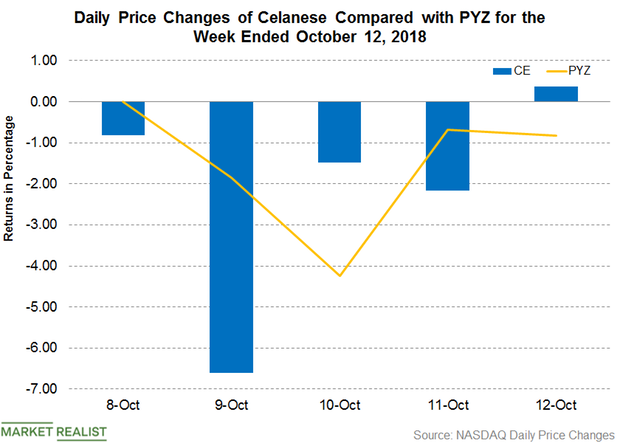 Celanese Acquires Next Polymers
By Peter Neil

Oct. 15 2018, Published 8:06 a.m. ET
Celanese new acquisition
On October 11, Celanese (CE) announced that it entered into a definitive agreement to acquire Next Polymers. However, Celanese didn't disclose the financial aspects of the acquisition. Celanese expects the deal to be completed by the first quarter of 2019.
Next Polymers is an Indian-based company with its headquarters in Mumbai. Next Polymers is part of JP Group of Companies. Next Polymers is one of India's largest domestic engineering thermoplastics compounders. As a part of the acquisition, Celanese will get 20 kilotons per year of a compounding production facility at Silvassa. The facility is located in Dadra and Nagar Haveli union territory.
Article continues below advertisement
The acquisition should enhance Celanese's presence in the region, which has a growth rate of 15% annually. Scott Sutton, Celanese's COO, said, "Next Polymers complements our rapidly growing India business to further establish Celanese as a leader in the Indian ETP market by broadening our ability to serve nylon and other engineered materials customers in a high-growth region. Additionally, this acquisition further supports the company's global manufacturing base by adding a world-class domestic compounding facility with ten production lines to support our local customers, leverage a potential export base, and expand our domestic ETP capabilities in a market that is growing at a 15 percent annual growth rate."
Stock price update
The sell-off in the US market sent Celanese stock down 10.4%. The stock closed at $98.68 for the week ending October 12. As a result, Celanese stock traded 13.3% below the 100-day moving average price of $113.79. The decline also pushed the stock into the red. On a year-to-date basis, the stock has declined 7.8%.
Eastman Chemical (EMN), LyondellBasell (LYB), and Westlake Chemical (WLK) have declined 11.0%, 11.6%, and 24.1%, respectively. Celanese's 14-day RSI (relative strength index) score of 16 indicates that the stock has moved into the "oversold" territory. An RSI of 30 and below indicates that the stock is oversold.
Investors could hold Celanese indirectly through the Invesco DWA Basic Materials Momentum ETF (PYZ). PYZ had 3.0% exposure to Celanese on October 12. PYZ decreased 7.4% for the week.