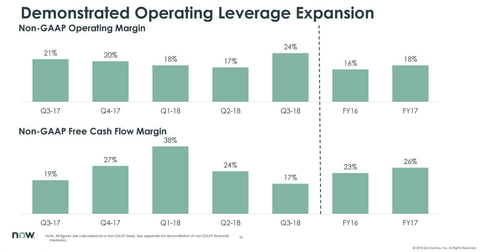 Analyzing ServiceNow's Financial Metrics
By Adam Rogers

Oct. 26 2018, Updated 6:31 a.m. ET
Non-GAAP profit margins
In the third quarter, ServiceNow (NOW) reported non-GAAP gross margins of 86%. The company's gross margin was 84% in 2016 and 85% in 2017.
ServiceNow's operating margin rose from 21% in the third quarter of 2017 to 24% in the third quarter. The company reported an operating margin of 16% in 2016 and 18% in 2018. The non-GAAP net income rose 87% to $129 million, while the EPS rose 79% to $0.68 in the third quarter.
ServiceNow reported an EPS of $0.86 in 2016 and $1.35 in 2017. The company is expected to post an EPS of $2.33 in 2018—a rise of 73% year-over-year, which is a significant expansion in its bottom line.
Article continues below advertisement
GAAP profitability
ServiceNow is expected to end 2018 with a GAAP net margin of -2%—an improvement from -7.7% in 2017. In the third quarter, ServiceNow reported a GAAP net income of $8.4 million or $0.04 per share. Analysts expect the GAAP net margin to rise to 0.3% in 2019 and 3.6% in 2020 due to strong revenue growth.
ServiceNow has increased its research and development expenses and selling and marketing expenses in line with its revenues to expand its product portfolio and acquire customers.
The industry standard for marketing expenses as a part of revenues is ~15.0%–20.0%—way lower than ServiceNow's standard for marketing expenses, which is well above 40%. Analysts expect ServiceNow's marketing expenses to reduce over time and improve its operating margins.