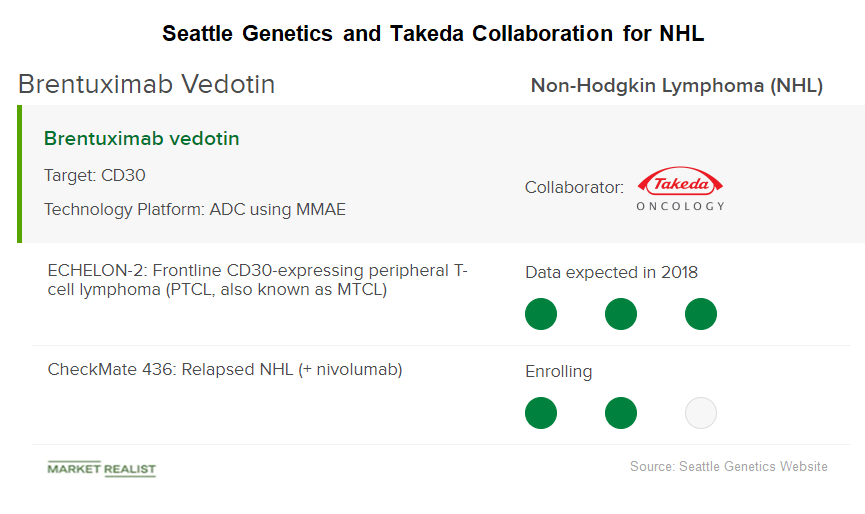 Analyzing Seattle Genetics' Key Collaborations
By Kenneth Smith

Sep. 1 2019, Updated 9:42 a.m. ET
Major collaborations
Seattle Genetics (SGEN) is focused on maximizing Adcetris' market reach. Currently, the product is sold in 71 countries. Adcetris was approved in Japan for treating frontline Hodgkin lymphoma. Seattle Genetics has a global collaboration with Takeda Pharmaceutical (TKPYY) to develop and commercialize Adcetris. While Seattle Genetics retains rights for the drug in the United States and Canada, Takeda has the rights for the drug in the rest of the world. Takeda pays Seattle Genetics a royalty.
Article continues below advertisement
A major part of Seattle Genetics' collaboration and licensing revenues comes from Takeda, AbbVie (ABBV), Genmab, and GlaxoSmithKline (GSK). During the second quarter of fiscal 2018, the revenues from these four collaborators were $8.74 million, $4.7 million, $7.0 million, and $6.0 million, respectively.
The product has been approved in the United Sates for five indications and in the European Union for four indications including Hodgkin lymphoma, relapsed systemic anaplastic large cell lymphoma, and for certain types of cutaneous T-cell lymphoma. Adcetris was approved in the United States in March in combination with chemotherapy for treating patients who are newly diagnosed with stage three or four classical Hodgkin lymphoma.
Label expansion
Seattle Genetics is also developing Adcetris in two phase three trials. It is conducting phase three trial, called Echelon-2, under Takeda collaboration for mature T-cell lymphoma. On October 1, the company reported positive data from the trial. Seattle Genetics is also conducting a phase three trial in collaboration with Bristol-Myers Squibb (BMY) for evaluating Adcetris in combination with Opdivo for treating relapsed or refractory classical Hodgkin lymphoma.
Late stage pipeline
Seattle Genetics' product pipeline includes enfortumab vedotin being developed in collaboration with Astellas Pharma for urothelial cancer, tucatinib for positive metastatic breast cancer, tisotumab vedotin in collaboration with Genmab for cervical cancer, colorectal, non-small cell lung, pancreatic, and head and neck cancers.
Next, we'll discuss Seattle Genetics' valuation metrics and analysts' recommendations.