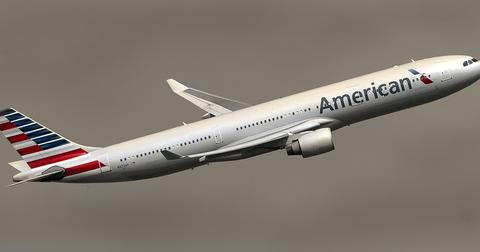 American Airlines' Q3 2018 Results Send Its Stock Soaring 8%
By Ally Schmidt

Updated
American Airlines' third-quarter results
American Airlines (AAL) reported its third-quarter earnings results before the market opened on October 25. Its revenue rose 5.4% YoY (year-over-year) to $11.56 billion. Its net profit, on the other hand, plunged 48.4% to $341 million, resulting in EPS of $0.74, a fall of 54.2% YoY.
The fall was the result of one-time charges related to fleet restructuring and the merger integration process. Adjusted for these charges, AAL's profit actually rose 4.1% YoY to $688 million, resulting in adjusted EPS of $1.13. Both its revenue and earnings matched analysts' estimates.
Article continues below advertisement
Key operational highlights
AAL's capacity grew 2.7% in the quarter, more than its traffic growth of 2.3%. As a result, its load factor fell 0.4% to 82.4%. Its passenger revenue per available seat mile rose 1.8% YoY to 14.07 cents. Its passenger yield rose 2.2% YoY to 17.07 cents.
AAL also saw huge growth in its operating expenses in the third quarter. Its operating expense per available seat mile rose 8.4% to 14.25 cents after adjusting for special items in the period. Its fuel costs also rose 37.6% YoY to $2.3 per gallon.
The company's increased costs were responsible for it reporting lower profits than its peers. Delta Air Lines' (DAL) third-quarter profit rose 13% YoY to $1.3 billion, United Continental Holdings' (UAL) profit rose 30% YoY to $836 million, and Southwest Airlines' (LUV) profit rose 17% YoY to $615 million in the quarter.
Outlook boosts share price
For 2018, AAL has maintained its EPS guidance of $4.50–$5, higher than analysts' consensus estimate of $4.28. It also expects its fourth-quarter total revenue per available seat mile, or its unit revenue, to grow 1.5%–3.5% YoY. Its fourth-quarter pretax margin (excluding special items) is expected to expand to 4.5%–6.5%. Most importantly, AAL's management has guided for a 3.5% YoY rise in revenue per available seat mile.
AAL's results aren't as stellar as those of its peers Delta Air Lines or United Continental. However, it's been falling for most of 2018 on mostly bad news, so even slight optimism from its management has been enough to send the stock soaring.
AAL has risen 9% as of 1:43 PM EDT on October 25. Southwest Airlines and Alaska Air Group (ALK) also reported their earnings today. LUV has fallen 7.1%, while ALK has risen 3.7%.
JetBlue Airways (JBLU), which reported its earnings results yesterday, is up 5.3%. The broader market tracked by the SPDR S&P 500 ETF (SPY) has risen 1.8% as of 1:43 PM EDT.