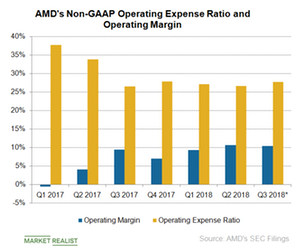 Advanced Micro Devices' Strategy to Improve Operating Leverage
By Puja Tayal

Updated
AMD's operating leverage
Advanced Micro Devices (AMD) is driving its current growth by transitioning to an advanced manufacturing node, implementing a multigenerational roadmap, and focusing on high-computing products such as server processors and high-end PC CPUs (central processing units) and GPUs (graphics processing units).
AMD is improving its gross margin by shifting its product mix to new high-performance products and transitioning to smaller nodes. It's also improving its operating leverage by focusing its R&D (research and development) spending on high-end products, especially machine learning and software. That's helping it effectively implement its product roadmap, generating higher revenue growth from a certain amount of spending.
In the second quarter, AMD's revenue rose 7%, and its non-GAAP operating expense rose 4.7% sequentially. That reduced its operating expense ratio 60 basis points to 26.5%, which was lower than Intel's (INTC) ratio of 30% but higher than Nvidia's (NVDA) at 22.2%.
Article continues below advertisement
Operating expense ratio for the third quarter
AMD expects its operating expense ratio to increase to 27.6% in the third quarter. Its revenue has fallen 3.4% sequentially, and its operating expense remains unchanged. The ratio is in line with its long-term target of 26%–30%.
Intel expects its operating expense to remain flat sequentially, whereas Nvidia expects it to increase 5.5% since it incurred the cost to launch its Turing-based GPUs.
Operating margin for the third quarter
Higher gross margin and improved operating leverage helped AMD increase its non-GAAP operating margin 140 basis points, to 10.6% in the second quarter. It expects to maintain its operating margin above 10% in the third quarter.
In 2018, AMD's profits are mainly being driven by its computing and graphics business. However, that could change in 2019 if its enterprise business picks up with the increasing adoption of its high-margin 7 nm (nanometer) EPYC server CPUs and its Vega server GPUs.
As we move on to the rest of this series, we'll see how AMD's two business segments are performing.