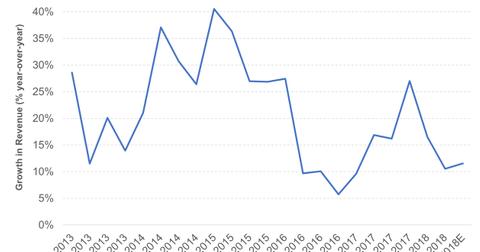 A Look at Skechers' Recent Growth Numbers
By Sonya Bells

Updated
Looking at Skechers' growth numbers
Skechers (SKX) reported strong double-digit growth between fiscal 2013 and fiscal 2017. Its total sales increased at an average of 22.0% during this period, thanks to its growing international markets and steady domestic retail business.
Skechers crossed the $4.0 billion mark in annual sales for the first time in fiscal 2017 as it recorded double-digit growth across all channels. Skechers' International Wholesale unit, which is its largest revenue channel, accounted for 41.5% of the company's total sales and grew an impressive 24.0% YoY (year-over-year) during the year.
Article continues below advertisement
Skechers' Q1 2018 overview
Skechers' (SKX) growth remained intact as the company entered the first quarter. Its top line expanded more than 16.0% to $1.25 billion. Its International Wholesale and Domestic Wholesale businesses grew 18.0% and 8.5%, respectively, in the first quarter.
Skechers' Global Retail business grew ~27.0% during the first quarter. International sales accounted for 54.0% of Skechers' first-quarter sales.
SKX slowed down in Q2 2018
However, Skechers' sales growth slowed down during the second quarter. While the company's top line grew a robust 11.0% YoY, this was still below its average 19.0% growth in the previous four quarters.
Although the company met Wall Street's top-line expectations, it missed analysts' same-store sales projections. Its sales comps increased 4.5% during the second quarter, compared to analysts' expectations of a 5.2% increase.
In the second quarter, Skechers recorded 25.0% YoY growth in its International Wholesale business and 13.0% YoY growth in its Global Retail business. However, its Domestic Wholesale and International Distributor businesses contracted 7.0% and 6.0%, respectively, during the quarter.
Looking ahead to Q3 2018
Skechers' (SKX) management expects its revenues to reach ~$1.2 billion–$1.23 billion in the third quarter, representing 9.6%–11.9% YoY growth. This growth is expected to be driven by the ongoing strength in the company's International Wholesale business. The company's Domestic Wholesale and International Distributor businesses are expected to return to growth in the second half of the year.
In the next article, we'll look at Skechers' expected bottom-line performance for the third quarter.