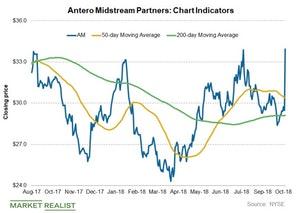 A Look at Antero Midstream Partners' Chart Indicators
By Vineet Kulkarni

Updated
Chart indicators
Antero Midstream Partners (AM) is currently trading at $34.03, approximately 12.0% and 17.0% above its 50-day and 200-day moving average levels, respectively. The large premium to both moving average levels indicates strength in the stock. 
The levels around $30.03 and $29.14 are expected to act as a support for AM stock in the short term. AM stock is currently trading in the overbought zone, as its RSI (relative strength index) reading is 86.
The RSI is a momentum oscillator that ranges from zero to 100. A stock is considered oversold when its RSI score falls below 30 and overbought when it rises above 70. Extreme RSI values could imply an impending reversal in the stock's direction.
Article continues below advertisement
Short interest
Short interest in Antero Midstream Partners fell 2.0% on September 28. On September 14, the total shorted shares in AM reached 5.18 million. Its total shorted shares decreased to 5.08 million on September 28.
A decrease in a company's short interest could mean that fewer investors expect the stock to fall from its current price level. A company's short interest reflects the number of its shares that have been sold short and not yet squared off. Short interest measures investor anxiety.
Antero Midstream GP
Antero Midstream GP (AMGP) is currently trading at $18.56, almost 4.0% above its 50-day moving average and marginally above its 200-day moving average level. The levels close to $17.84 and $18.40 are expected to act as a support for the stock going forward. It seems to be approaching the overbought zone with an RSI of 69.